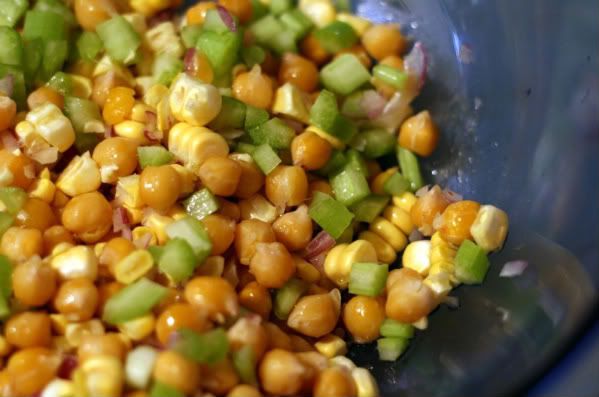 There are moments of my time which are completely calculated, and premeditated. Usually silly things like ensuring there is enough cream and eggs in the fridge for the makings of ice cream, or endlessly searching recipes to find the right one to use the
special
vanilla in. How ridiculous, I know. But, what could be better, and why wouldn't I
plan that?
Especially since the rest of the time, I am often completely succumbed to following the pangs of hunger - that is if Jeff doesn't beat me to it and start cooking first. So planning lunches, to-go, can seem a little bit mundane, as I am just not hungry for lunch at 5:30 in the morning. Imagine my shock when I come to the realization, as an over-zealous vegetable shopper, that really there are no vegetables in the house. How can this be? Is this some kind of bizarre joke? The fridge was bursting at the seams with aromatic garden scents just days ago. Now, there is
just nothing
to eat, I swear it. My mother used to hate these moments, when I stand and blankly stare into the fridge, "What do you think is going to
fall
out of there? If you want something you have to
look
for it. STOP, holding the fridge door open for so long!" Sheeesh. I find it hard to open the fridge door to this day. Well sure, there's
lots
to eat, but all of it requires significant cooking, and I'm in a hurry to get to work. Immediately, I begin to hard boil eggs. Maybe that will solve the problem of no lunch for the soon to be hungry girl, yes? Well, no, the novelty wore off (maybe tomorrow). I continue to scrounge, and discover that really there
are
vegetables hidden in the depths of the fridge, just under used, misjudged vegetables lurking in there. Take corn on the cob for instance. Except that, immediately, butter comes to mind, or the feeling of little corn holders sliding within greasy fingertips. But, even though I use it in many dishes, I sometimes don't think about using it as much as I should. And it is really so lovely, especially raw, so sweet, so crispy, so perfect with red onion, which also lurks in the crisper, only to have a slice sheared off here and there. For many reasons, I eat a lot of chickpeas in salads for lunch, and these I always have on hand, always. They are inexpensive, a good source of protein and fibre, and they are just about as nutty as I tend to be. But really, I just like them. I cook chickpeas in the slow cooker, just rinsing them first, then I cover them with water and give it a whirl. I just check that they are always covered with water, sometimes adding a bit more. I taste them to decide when a texture I like is achieved, and then I season with a bit of salt. Sometimes I toss a clove of garlic in the works, if I'm feeling adventurous - yes I do realize this is a pathetic sense of adventure, but it is a noble cause nonetheless. The best thing is that I always have the makings for hummus, as I keep bags of chickpeas frozen, specifically for my sometimes mundane salads with chickpeas. Chickpeas are my lunch when there is nothing else to be had. No leftovers, nada. Today's salad was different. First of all, there was no lettuce. And there was no acid for a vinaigrette, just olive oil. There was also finely chopped celery, and nearly minced red onion; things I hate to do early in the morning, even though I love my knives. It just doesn't feel like the right time of day to inhale a pungent onion smell, as much as I love to eat it's spicy fruit when paired with a rich chickpea. It is worth the effort, and a fairly small effort at that. This salad didn't even require a separate container to store a dressing, so I guess that was one less thing to do, no?
Chickpea, corn, and crunch salad
(Serves 1) 1 cup cooked chickpeas 1 stalk celery, diced 1 corn on the cob 1/2 tbsp finely chopped red onion extra virgin olive oil, to taste 1. Remove the husk from the corn. Using a medium-sized bowl, place the end of the corn into the bowl, so the corn is upright. Cut the kernels in the bowl with a sharp knife. 2. Combine the corn with the chickpeas, celery, and red onion. Lightly dress with olive oil.