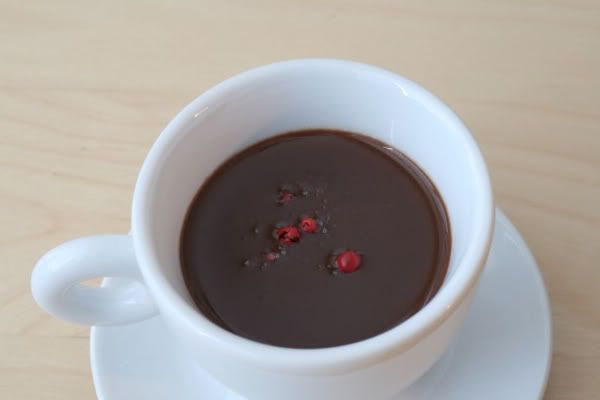 Winter is a time to be cozy, curl-up and cuddle. It becomes exquisitely delicious and enticing with hot chocolate. It should be rich and aromatic, with a lingering thickness which remains on the palate just a second longer than expected. Something to be savoured. It may as well be a tad spicy, but a delicately sweet and subtle spice. A cure for all that ails you; affectionately known as
drinkable chocolate goop,
but ultimately much more refined. My favourite hot chocolate.
pink peppercorn hot chocolate
(Serves 1-2) 1/2 cup whole milk 1/2 tsp cornstarch 60g, 70% dark chocolate, shaved or finely chopped 1 tbsp honey 1/2 tsp best quality vanilla extract 1/2 tsp crushed pink peppercorns 1. Pre-heat cups with hot water, to help the hot chocolate remain hot. 2. In a small saucepan, bring the milk and cornstarch to a simmer over medium-low heat. 3. Lower the heat, and whisk in the chocolate, honey, vanilla and peppercorns, until velvety smooth. 4. Empty the water from the cups, and dry. 5. Pour the hot chocolate into cups, and garnish with additional whole peppercorns, or whipped cream. Enjoy!