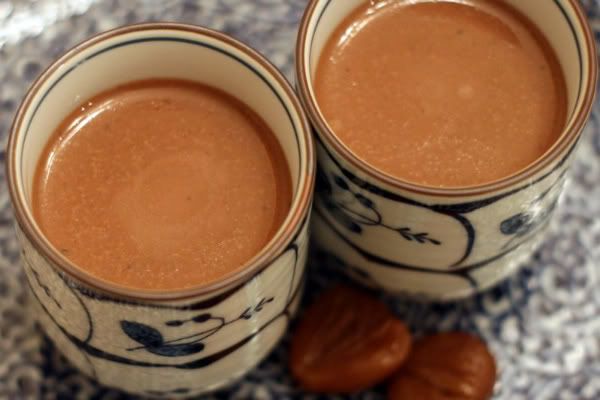 Chestnut hot chocolate is for the chestnut connoisseur. The chocolate is not too overpowering, as to prevent the flavour of the chestnuts from singing through. Orange blossom honey helps to round out the flavours, by adding a slightly floral element. This is a welcome addition to satiate my hot chocolate cravings.
Chestnut Hot Chocolate
(serves 1-2)
1 cup whole milk 10 unsweetened chestnuts, jarred 20 g 70% dark chocolate, chopped 1 tbsp orange blossom honey 1. In a blender, combine the milk and chestnuts until smooth. 2. Heat the milk and chestnut mixture in a small saucepan, on low heat, until bubbles begin to form around the edge. 3. Add the dark chocolate, and whisk until combined. 4. Mix in the honey, until well combined, and remove from heat. Serve immediately.