I realize that I have been falling more and more behind. Like I've completely forgotten you. I would have called, and I'm really sorry that I didn't. But I think I can make it up to you now. I have so much to say! I have now delayed announcing that the blog has received the Arte y Pico Award, and I have now received it twice! I am flattered by Foong at The Food Site, and And also the
I love your blog
award. I'll have to announce the new recipients later in another post, as it seems that every time I was about to choose a new recipient, another blogger beat me to it! Here's my friday five fave food finds, and this week I decided to focus on Calgary-based sites: 1.
Dinner with Julie
, is created by local Calgary-based author and writer Julie van Rosendaal. It documents her daily dinners; each post is dedicated to a dinner for every day of the year! Sometimes, she features restaurant meals out, or the recipes for meals she created at home. It's an elegant, and tasteful blog. Bellissima! 2.
Eat.Sleep..Dream...Food
, is a blog to check out if you are not too hungry; the food photos, can easily cause an incontrollable mouth-watering desire to eat. It is a particularly useful tool for traveling to Western Canada, for finding desirable places to eat. 3.
Edible Prairie Blog
, contains all the Calgary food news you'd ever need or want to know. Best place on the web to stay up-to-date. 4.
TasteReport.com
, is a go-to resource on most everything related to food, by Calgary-based Cinda Chavich. I've been reading her recipes and articles for
years
, but here you'll find a wealth of resources, and I'm overly engrossed in the travel section - how about a
slow-food tour of Piedmonte
? 5.
Moving to Calgary
, is an absolutely hilarious, and informative read. Yes, I realize that it seems you would actually have to live in Calgary to be interested in this blog, but I disagree. It's written by "a guy that hates blogs", and decided to write one, and he writes the exact same things I say only in the closest company (I do
despise
the word blogger).... Read this if you want to double-over in laughter. Yes, enough already, I'll be back soon. In the meantime, here's a couple photos of a lazy Saturday breakfast: Jeff loves to make french toast from day-old baguettes, and I'm not complaining either.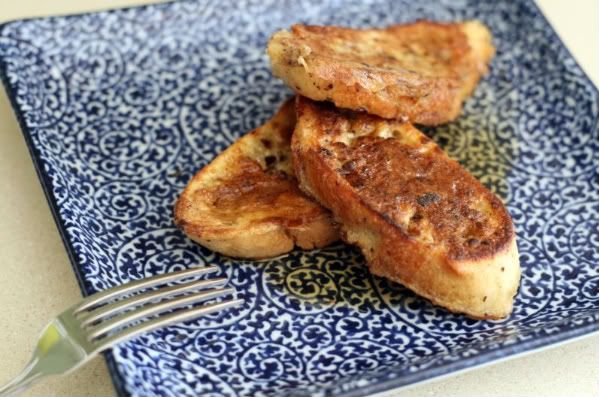 I drink a lot of matcha tea, it makes you feel clean.