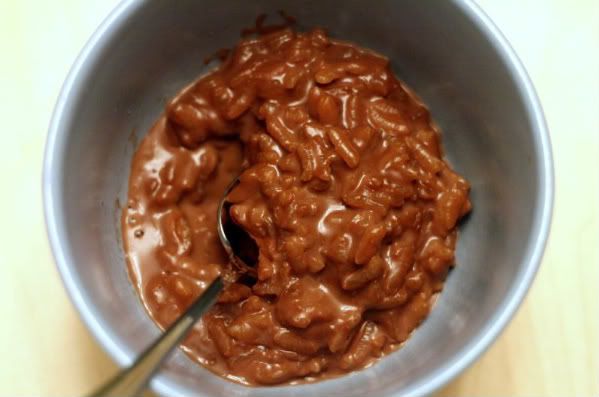 In the late evening, it is easy to succumb to a desire for something sweet. And knowingly, I often try to create something which takes far too long to create, for this time of night. For me, these sunset creations usually involve chocolate. Can you blame me? There are times when instant gratification is necessary, and other times when a delightfully enjoyable dessert, which takes a few minutes, is a necessary evil. Now, if only I had better planning skills to time these things just so - say like to start cooking at 5pm. Of course, if I didn't already eat the other bars of my favourite good quality mouth-watering chocolate, we wouldn't be having this conversation. I would just eat those. But alas, the cookie container beside the fridge is also empty, and it's 10pm. I have found that cravings are just something that
should not, or maybe cannot
be ignored. If I simply went to bed, as any normal person might choose to do, well I wouldn't wake up
normal
, and would probably
be forced
to make three or four desserts instead. And just how many cappuccino's would Jeff have to make to complement all of those? Now, quite a few friends have tried his cappuccino's, and I have tried many others. But I suppose like an Italian bambino, or adult, who cannot voyage further than the next farm, as to be too far from the treasures of mama's kitchen, well I am sadly the same with Jeff's cappuccini. OK, I have had one or two, that I have really appreciated, either for the nutty-deep-beautiful coffee flavour, or for the milk. I don't know, but somehow having a cappuccino on a cow farm in the Emilia-Romagna countryside, where the milk was as fresh as 5am that morning, well that is just about as blissful as it gets. And most weekend mornings around our place, are strictly devoted to scooping the foam from the largest mugs we own. Yes, it is absolutely overdone, but why not? Now some time ago, in one of my many moves across the countryside, I was still in my apartment for several weeks without the worries of work or school. And all I had to do was pack, and clean out my well-stocked pantry. It sounds deliciously easy, except that I wasn't really planning on moving, and my pantry was over-zealously stocked - well until I got down to the more unusual ingredients no one else knows what to do with, and it would break my heart to just throw them out. Never! For shame! Oh, and I couldn't just ship and pack these more unusual ingredients, or I'm sure Canada Customs would have declined the entry of my packages, albeit as harmless as a bag of rice can be. It was a beautiful September, and I had time on my hands. Without taking any mental notes, I somehow created this seemingly magical chocolate rice pudding goo, which was somehow all the more enjoyable, knowing that nearly everyone else I knew, was not enjoying such comfort food, but out working or increasing their intellectual capacity at institutions of greater learning. And at moments like these, a papasan chair comes in especially handy. Unfortunately, after that, my chocolate rice pudding was never quite the same. Oh, and believe me I tried! I randomly threw exactly the same ingredients into a pot, which really should have burned the ingredients, but worked perfectly before, and I don't think I'll ever figure out why. Replication can sometimes be something near to impossible, so then it was time to try something completely different. I followed absurdly difficult recipes, with hard to find ingredients. I tried recipes, so absolutely easy, but the taste left more than something to be desired, not that I had any trouble eating them mind you. Then to make things more difficult,
Rice to Riches
came along, and it became an instant addiction. The rice is somehow just right, and the connective pudding is impossibly creamy, and I am convinced that there are eggs in there, but I could be wrong. While this recipe, is not
quite
Rice to Riches
, it is a narrow second, and only an Olympic-tenth-of-a-point at that. It's pretty close, but of course I'll keep trying for the elusive
gold
. The harrowing tales of which are so very difficult to dispose of the outcome of such laborious efforts. Although, this one's pretty easy, and that makes me giggle and smile just a little bit more.
Chocolate Rice Pudding
(serves 6)
1 cup arborio rice 2 cups water 2 cups whole milk 2 ounces heavy cream 1/2 cup sugar 8 ounces dark chocolate (Dagoba 73%) 1 tbsp butter 1 tsp vanilla 1. In a saucier, or sauce pan with a lid, bring the rice and the water to a boil. Lower the temperature to medium-low, and continue to simmer with the lid. Stir occasionally. 2. When the rice has absorbed all of the water, combine with whole milk and cover. 3. Meanwhile, place the chocolate in a heavy mixing bowl. Bring the heavy cream to a boil, and pour over the chocolate. Let this sit for a minute before stirring to combine. Then add the butter and vanilla. Set aside, or in the refrigerator to cool. (this ganache can be made in advance) 4. When the texture of the rice is soft, but yet a little firm, it is time to add the sugar. Lower the temperature immediately. Begin to spoon the ganache into the rice, and combine. 5. Turn the burner off, and let the rice pudding sit covered for another fifteen minutes. This will allow the flavours to combine, and the pudding to gain a little firmness. 6. Serve warm, room temperature, or cold, as everyone seems to be most fussy about the temperature of their rice pudding. It is also heavenly served with a little chopped pistachio or hazelnut on the top.