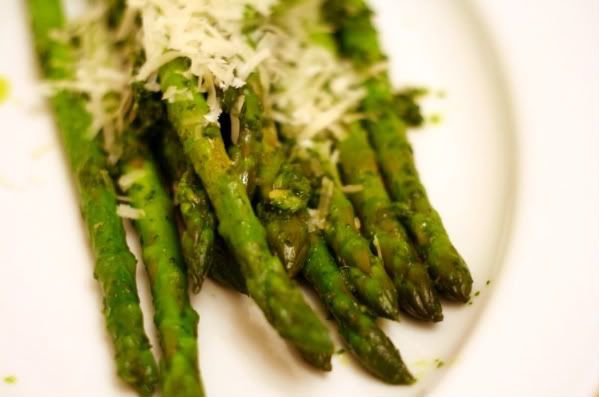 Well I don't know, and I could be wrong, but asparagus is just so swell and good. It's for all those meals you think will require a green salad, and then you realize that there is no lettuce in the fridge, and you just can bear to head to the store even once more. Thin little spears of asparagus are my favourite, but they don't have to be imported from France as less than pencil thin (although those are good too). But there should be a sweetness, and tenderness found in smaller spears, which just accompanies most other dishes, or can be cooked into other creations just as well. Sometimes, I like asparagus to be a little bit more special. A little more of a main feature of a meal, with their own character and deliciousness out of the ordinary. Pesto and parmigiano just flavourful enough to yummify an already elegant vegetable.
Asparagus with Arugula Pesto & Parmigiano
For the pesto: 8 oz arugula (1 bag), washed and dried 2 cloves of garlic pinch fleur de sel 1/2 cup extra virgin olive oil 1/4 cup parmigiano-reggiano For the asparagus: 1 bunch aspargus 2 tbsp arugula pesto 1-2 tbsp parmigiano reggiano 1. Using a mortar and pestle (or food processor), combine the ingredients for the pesto until a thick, and even paste (pesto) has formed. 2. Lightly steam the asparagus (3-5 minutes or to taste). 3. In a sauté pan, thoroughly warm the pesto. Add the asparagus, and combine. 4. Place the asparagus on warm plates, and grate the parmigiano-reggiano over the top. For extra zing, also add some lemon zest.
Bon
Appétit
!