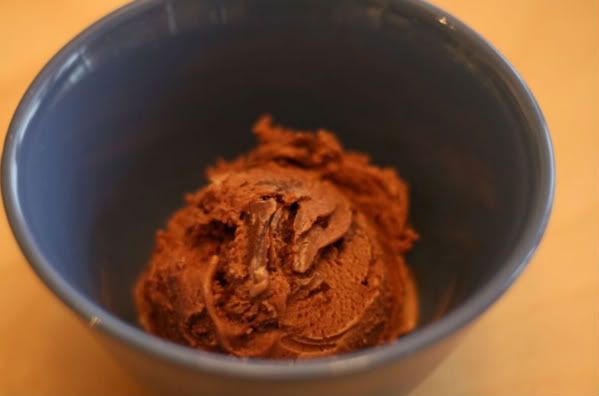 I absolutely adore hazelnuts. There is something so satisfyingly rich, and buttery about their roasted flavour. I am constantly trying to find ways to incorporate them into everything I can. And this dessert has to be simplest of all; I don't even need any hazelnuts.... But Nutella instead, the consummate hazelnut combination. It really is like a kiss. Bacio!
Bacio Ice Cream
1 300 mL can sweetened condensed milk
2.5 cups 35% heavy cream
4 tbsp best quality cocoa
6 heaping tbsp Nutella
1/4 tsp vanilla
1/4 tsp fleur de sel
1. Place a resealable container in the freezer to cool. This will keep the ice cream from immediately melting once removed from the dasher.
2. In a blender, combine the condensed milk, heavy cream, cocoa, vanilla, fleur de sel, and 3 tbsp of the Nutella.
3. Add the mixture to a prepared ice cream dasher, and churn.
3. When the mixture resembles "soft ice cream", and just before you would normally empty the dasher; add the remaining 3 tbsp Nutella, trying to "ribbon" it into the mixture. Try to keep the mixture from becoming over-mixed, the intention is for "ribbons" of Nutella to remain.
4. Place the ice cream into the cooled container, and immediately skip to the freezer. The ice cream will be ready to enjoy once it is a bit more solid. Kiss in the meantime. Patience.