OK, I have to admit that I am almost tired of hearing how
easy
every recipe is to make. Let's face it, if you're tired, and cold and exhausted, nothing is easy to make because it requires washing your already nearly raw-from-winter-dryness hands, and who wants to cry over the death of an onion? But I suppose it does beat the alternative of endlessly listening to tummy growls. I am still not sure if I
love this soup
because it tastes good, or just because it is so delicious and it's so easy to make. It really is easy. Plus the recipe is from a very dear friend, who said I just
have
to make this recipe. And a recipe from a friend makes even the simplest dish even a bit more special doesn't it? But the trickiest part of making a large batch of anything is finding containers to put the soup in, because it really is ridiculously easy, and feeds us for us for lunch for a week. Have I mentioned yet that this is easy? ummm... I should also probably admit that finding containers to store food in at my house can be like finding the bay leaf that's hidden somewhere in the steaming pot, but it's just not showing it's face.... well you can always find a lid and a container, but not always one that matches the other. I guess that's why I do the cooking, and leave filling containers up to Jeff... But this is one of the times where starting with really top-notch ingredients is a win-win, and actually worth the small effort. Plus, I do like this recipe because it requires running the oven for hours on end, and that is always a good thing in the midst of the winter blahs. Start with the best tomatoes you can find. And I sincerely guarantee that using the best tomatoes will make a difference. I am addicted to these tomatoes. I know it might seem excessive, but I will chuckle when I see that little dab of tomato on your chin after you've finished licking the bowl.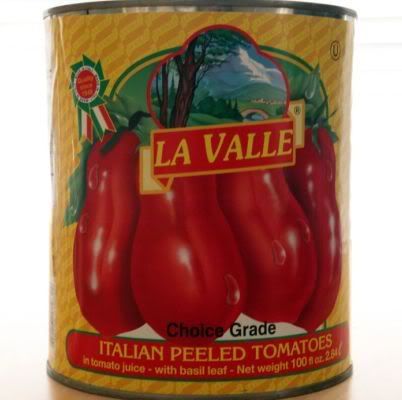 This is an all-night or all-day recipe, but it really is worth the wait. It's an easy wait. I feel like I've worked so hard, but really just turned the oven on. It is easy to create personalized versions of this soup, with either a few coups of black beans, and chopped cilantro. Alternatively, a few fiery red chilies, as a nice warmer as well.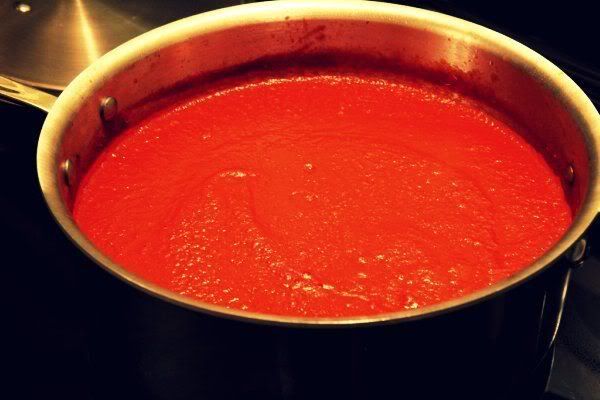 Roasted Tomato Soup
100 oz. canned and peeled (try San Marzano) tomatoes 2 medium onions 3 cloves of garlic, peeled and halved 1/4 cup extra-virgin olive oil 2 tsp salt (or to taste) 1. Pre-heat the oven to 200 degrees Fahrenheit. 2. Peel and chop the onions. Heat the olive oil in a dutch oven, or deep-sided saut
é
pan. Saut
é
the onions, and garlic on medium on high heat, until a they are a deep golden brown in colour. Add the salt, and the tomatoes. 3. Place the pot with a lid, place in the oven and wait. At least 8 hours, but a bit longer is good too. Puree the soup, adjust the seasoning, and serve.