The menu at
Sushi Samba
is completely addicting.
Sushi Samba
melds Japanese, Peruvian, and Brazilian interpretations on food, drink, and design. It's like a little something for everyone, with many unique and delicious dishes perfect for sharing. And really, that is the fun of
Sushi Samba
, enjoying several beautiful dishes while emphasizing the social aspect of the dining experience. Eating here is also fun; from the whimsical decor, to the food itself, it's a delightful experience. After the rich breakfast we enjoyed at Bouchon, we were looking forward to enjoying a few vegetables. More often than not, vegetables are virtually ruined by excessive or ransid oil. Luckily,
Sushi Samba
perfectly prepared the field green salad with sliced radishes, and beets. It came with a light and flavourful carrot ginger dressing. Very refreshing.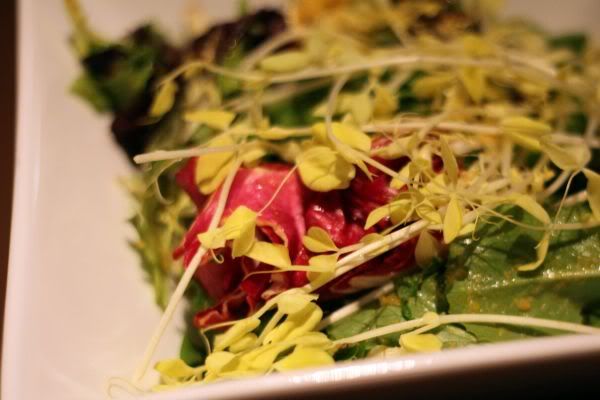 The tuna tataki was a nice combination of salty and sweet, tender and crunchy.
We loved the shrimp ceviche, with perfectly chopped vegetables, and a crunchy plantain to top it off.
The sushi platter, with the samba strip roll, was gorgeous, in every sense. It was a nice surprise to have a few bites of lobster to accompany our rolls, but the unagi (bbq eel), hiding in the background was absurdly good. My caipirinha is in the background, just as strong as it should be.
This cake looks too simple. Fortunately, it was not. It was a warm chocolate banana cake, but hiding underneath the vanilla rum ice cream is this toffee-like maple piece. Now it does sound simple, I agree, although it tucked a nice little surprise into a warm chocolate cake, which wouldn't otherwise compete with the hundreds of other warm chocolate cakes available elsewhere.
Christian Louboutin. This is for
Shauna
, and other lovers of shoes. It makes getting to
Sushi Samba
not half bad, cough, cough, as you wander through the shops of the
Palazzo
.