Jeff and I finally arrived in Vegas last night, albeit very late. And while we were hungry, we just decided to opt for sleep instead. We feel like we are sleeping like kings for the week!
The palatial marble bathroom at the Venetian Hotel. If only the tv weren't stuck on only one channel because a previous guest placed a "parent lock" on it. But I think I can make do with the other two in the other room, it's over the top. 
The room is expansive, with a sunken living room to top things off.
This doesn't have much to do with food of course, but sometimes it is fun to dream plan the next vacation while at the computer. Virtually starving by this point, we headed to Bouchon for brunch. There will have to be a second post, as I brought the wrong lens, so I'm not thrilled with the other photos. Oh darn, we'll have to go back. And it's a beautiful atmosphere to
have
to go back to, with a gorgeous bar, a vaulted ceiling, tiled floors, and well it's simply classically French. Elegant. Our server promptly brought a beautiful bread with a fabulously creamy butter, and strawberry jam. Absolutely fabulous. I had a very good coffee, and Jeff enjoyed his cappuccino. I ordered the french toast, which more closely resembles a layered pastry made from brioche and carmelized apples. It is divine, but very, very sweet, with ample maple syrup. Jeff ordered the croque-madame, and it was phenomenally tasty. I don't know how virtually perfect brioche with a fried egg, cheese, and ham can get any better, but this mornay sauce does a pretty darn good job. Then there's the fries. If I were a potato, this is how I would want to die. Perfection.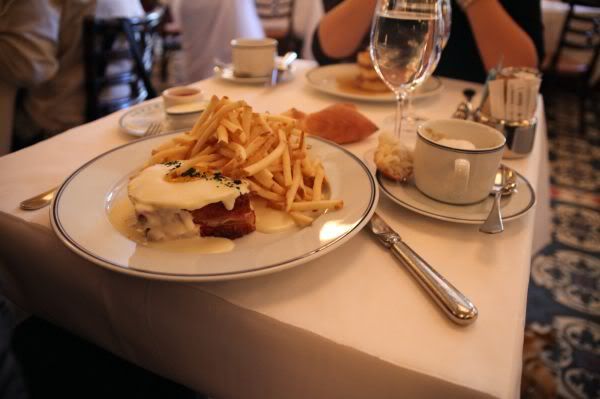 Since then, we shopped, and shopped and shopped. More updates later!