I could eat bread and butter everyday. I could, I really, really could. Especially, fresh warm bread from which I can become stupefied just from inhaling the remnants of its perfume. You know the kind - it keeps you mesmerized, and completely in awe, although you try to conceal your delight. Break off a small piece of bread and admire it. It appears to be simple. It seems straight forward enough, just sitting there awaiting your attention. I am certain, however, that somehow the crusty outside is just a drug in disguise, as it leads me to the moment I realize that I absolutely cannot live without this seemingly simplest of foods. I mean really. In reality, this precious piece is somewhat mysterious. It's a bit like the Mona Lisa. I ask myself, "How is the outside so perfectly golden, and nearly buttery, but still just a bit chewy?" I smile at it, and it smiles back. It is strong enough to conceal the secret of the lusciously tender inside, that the only way to make it even more delectable is to slather it with a fresh, creamy, and smooth butter. This is the point, I absolutely cannot stop myself. Nor do I try to. Then I am gratefully plied with warm pistachios and a smidge of wine, and there is nothing that can be wrong in this world. I am sitting in a restaurant that is open and airy, although within moments of sitting, there is somehow a coziness that ensues. Nothing is too loud, or too obtrusive. Linen covered tables, with paper on top, creates an air of elegance without being too fancy. It's as if the paper is to take the pressure off of any type of accidental spill. The servers work as a nearly psychic synchronized swim team. Their performance is graceful, well-timed and hardly creates a splash. It's the kind of place you sort of imagine appealing to a French Great Gatsby. And for awhile, I just go ahead and pretend. I have another confession. I have an absolute obsession with restaurants which are a little bit - now please understand - imperfect. Don't get me wrong, every aspect here is very good, absolutely lovely and endearing, but not too excessively refined, solely for the sake of meticulousness. More often than not, I want to feel as though I can drop a crumb of bread, enjoy the conversation of my fellow diners, without feeling too overburdened by minding my manners, sitting up gracefully, and essentially feeling somewhat comfortable. A place I could eat everyday. Therein lies the difference. Imperfectly perfect.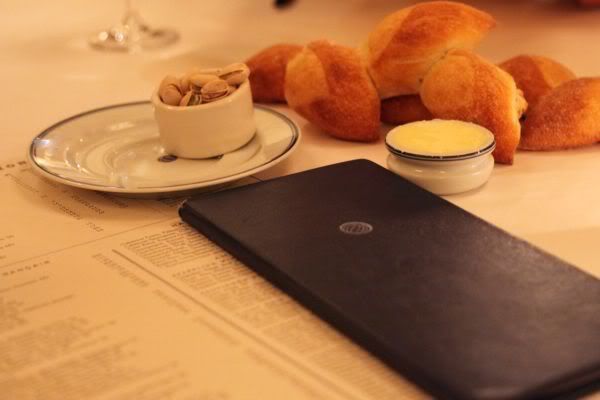 A casual presentation of the paper menu, like a little gift, waiting for you to unwrap it's surprises. It's cute, but it will get wrinkled, and I just love that. Its imperfections are built in.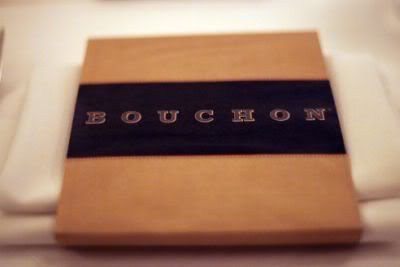 Jeff and surroundings.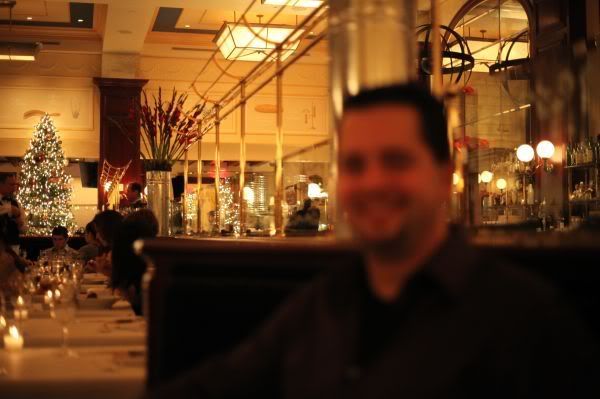 I could gush about everything, like the not too intricately tiled floor. Nothing is too opulent, albeit beautiful nonetheless. Bouchon actually refers to a traditional type of restaurant in Lyon, which specializes in the meats, and pâté's of the region. It is not haute cuisine at all, and there are only twenty genuinely certified bouchon in the area. The certification for authenticity must be donned by the Authentiques Bouchons Lyonnais. While the French word
bouchon
commonly refers to the stopper of a bottle, the bouchon restaurants are believed to have derived their name from the 16th century expression for a bunch of twisted straw, which was placed on the signs to indicate restaurants for the silk workers. The tradition began when small inns were visited by silk workers traveling through Lyon.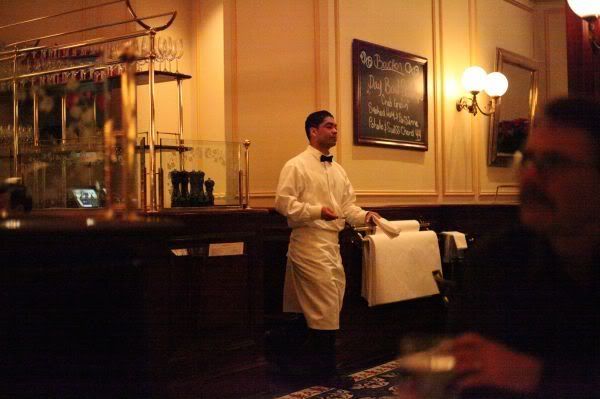 Moules et frites. Or more correctly,
moules au safran et a la moutarde.
It is impossible to say that the fries are anything but perfect. These are absolutely perfect fries. Crunchy and light. I am certain that these could not be improved, although I'll very happily enjoy those too, but there is a lightness, with just a hint of salt which might possibly make these the world's best fries. In this case, it is a mere requirement, a duty perhaps, in which as many fries as possible simply must be consumed. If I must, I suppose. The mussels were equally extraordinary. The quality of the mussels is remarkable. Complete, melt in your mouth buttery-goodness. Not that they were smothered in butter, in fact the white wine, saffron and mustard broth they were steamed in, did not detract from the beauty of the mussels, but instead it delicately enhanced their freshness and flavour.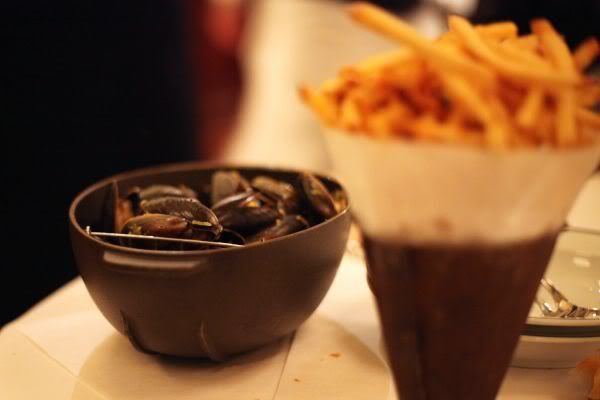 Steak frites. Again, the most perfect of fries. With an equally perfect steak. Again, something appearing simple. But of course it is not. Jeff shared a bite, albeit begrudgingly, and it was one of the juiciest steaks we've ever tasted, butter aside. It was discretely seasoned, and incredibly flavourful. (Yes, we are from Alberta, but our best beef is usually shipped abroad)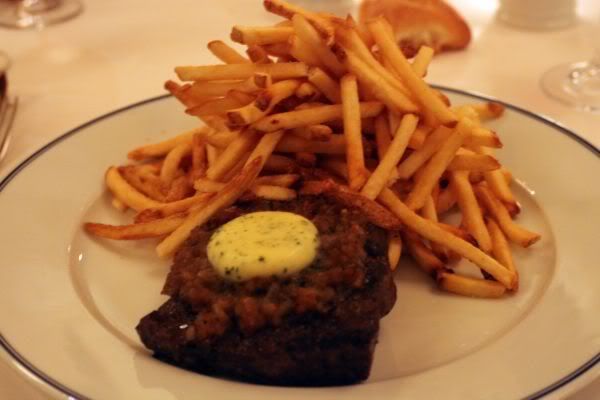 My Mother's croque-madame. Just as fabulous as can be.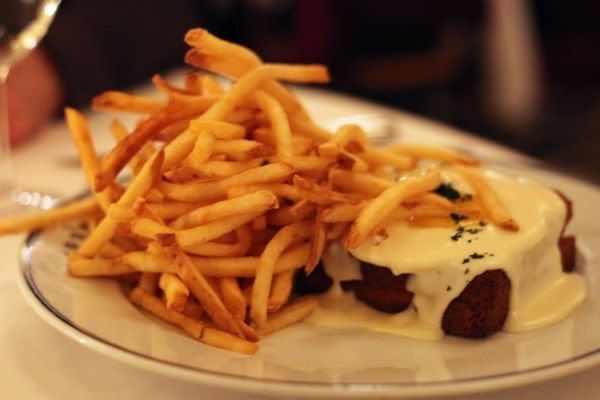 My Father's
truite aux amandes
. Pan-roasted trout with almonds, brown butter and haricots verts.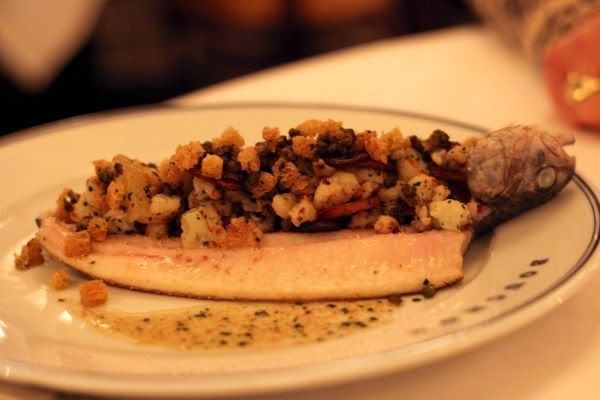 This was our first dinner at Thomas Keller's
Bouchon
, Las Vegas. This was our second meal at Bouchon. Here is meal
one
. Jeff and I returned for meal three on Christmas Day.