So there's been no posts on here in over a week. And today should have been "fri five fave food finds", but it's not done yet, and I'm tired of finishing it on Saturdays. I guess this last while has been a bit of a food rut, but lots has been going on. Jeff and I took in an opening of a wheel of parmigiano last Saturday morning. There's nothing quite as delightful as taking a full inhale of a freshly opened wheel.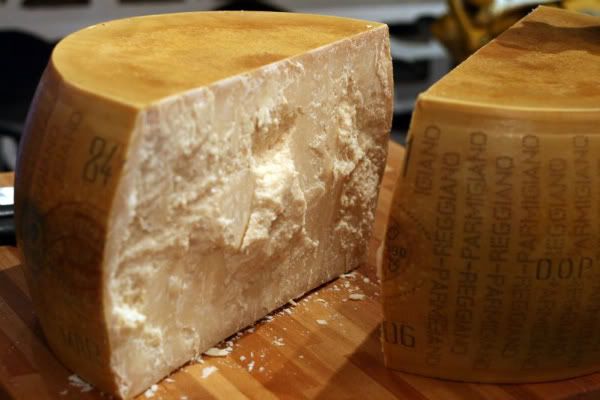 Sure, I've cooked quite a bit lately, and certainly eaten enough to prepare for an upcoming holiday overdose, but somehow no new recipes have been
that
exciting. Good, but not great. Just hum-dee-haw. Or just haven't turned out quite right. Or just don't seem very creative, or good for sharing. A lettuce and tomato salad is delicious, but boring. I thought I'd make chocolate oatmeal cookies for you. I have made them a million times. But then I forgot the right amount of flour, and they weren't as beautiful (albeit nice and buttery), as they should have been. Just nothing has been good enough for you. And to be a whiner, I also have a smidgen of a cold, so am avoiding dairy products somewhat; this complicates my glorious hot chocolate scheme... yes I'll sacrifice myself to test so many of them, but I have to draw the line somewhere. Or the picture, just wasn't quite
right.
So that has been on hold too. I might be getting a new camera soon, so there is some inspirational hope to come. However, here are a few tastes from couple recent dining adventures. These photos are from a friend's birthday at Bonavista Peking House. Dinners with J are nearly always multi-course affairs, whether you like it or not. (Several courses beyond this post!). And you won't find these dishes on the English menu, and they are very, very good: Peking duck; place it in a wrapper with some green onion, hoisin and cucumber. Delicious.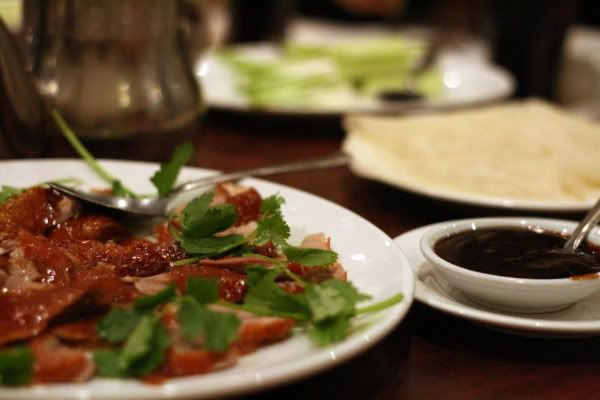 Roast chicken with shrimp chips and sea salt.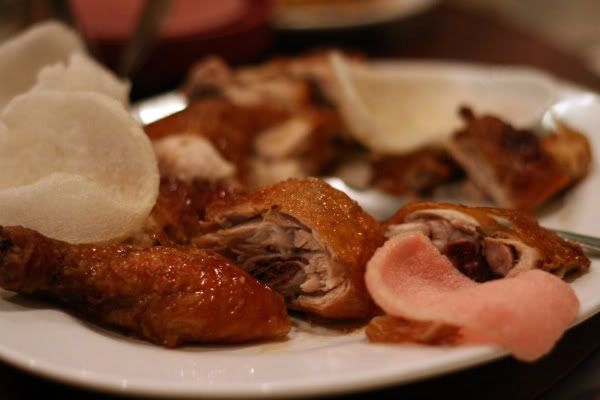 Shrimp and scallops with vegetables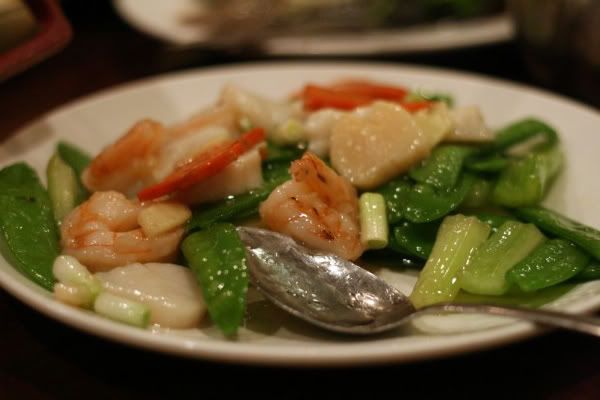 Yin and Yang rice. Fried rice hiding underneath these sauces.
This chestnut soup with a truffle infusion and truffle foam, was part of one of the best meals I've ever had, AND it was here in Calgary. Hooray!
Chef's Table
at the
Kensington Riverside Inn
= worth every penny. Not an everyday splurge, but I would rather dine here, and then eat frugally for weeks; than to dine elsewhere five times, for "high-end" food that doesn't even come close. It's like going to gastronomic heaven for an evening.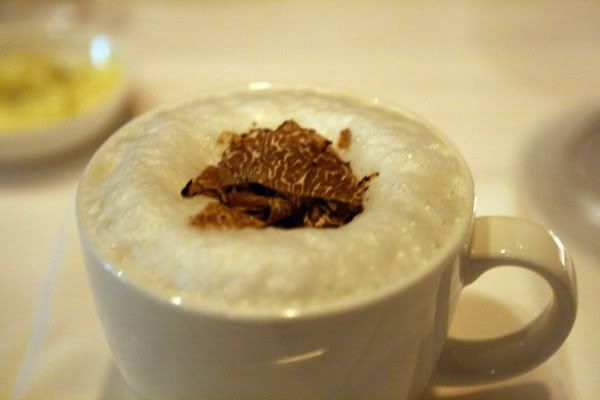 Ok, Ok, I'll get on with those promises of more hot chocolate to come!