This was our first foray into Mario Batali and Bastianich-land this trip, and it was just as I had anticipated. Everything was very good; not a
single
dish which did not at least please. This started with the bread - the only traditional Italian, virtually burnt and tasteless bread, I've ever had outside of Italy. Things were looking up. I have happily released my apprehensions of the some of the terrible reviews of Enoteca San Marco, which seem to be a bit unwarranted. Most importantly, this is supposed to be a casual place, really a wine bar. It's supposed to be a little bit like eating at home, nothing too fancy or contrived. It does happen to have main
entrées
, but there is a definite emphasis on sharing antipasti. Enoteca San Marco is located in a corner of the
Piazza San Marco,
in the Venetian hotel and casino, and is supposed to feel a bit lively as it is intended to feel outdoors, with camera-happy passersby, gelateria's, entertainers, and gondoliers. This is not a place for a quiet, intimate experience, unless perhaps "inside" the restaurant doors. There is a certain element of this fake spectacle, which needs to be taken in stride. After all, spectacle and excess are the essence of the Las Vegas strip. This is Vegas, after all, so the prices are not rock bottom. However, four of us were more than satisfied for just over $200 including a fantastic bottle of Montepulciano d'Abruzzo. Not bad anywhere, never mind Las Vegas. Since it was one of our first dinners in Vegas, it didn't seem like a big deal to have 100 wines less than $100. However, after dining at other restaurants, where there were over a thousand bottles of wine with only
eight
bottles of wine under $100, this list can be appreciated a bit more. I'm all for good wine, but I have to draw the line somewhere. As mentioned, the bread would probably seem to many, as completely lifeless and probably inedible. Enoteca San Marco, does however, attempt to improve this bread of the
povere
, poor, by wrapping it in paper and it is served warm, and therefore, still soft. In Italy, bread is served at the beginning of the meal, but is hardly ever eaten until the end of the meal, and mostly to mop up sauces. Try it, rip off a little piece, and clean off the plate with that perfectly toasted crust which adds additional body to anything left. The traditional bread has no preservatives, and no salt, and is very dense. It is not meant to be eaten by itself. It is almost like a sponge. It is a vessel used to amplify the flavours of something else, and not to detract from it.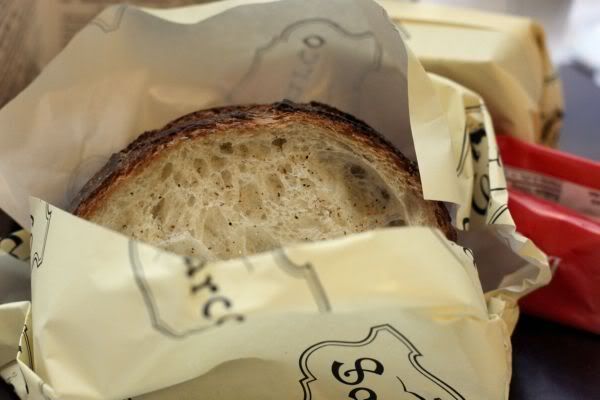 To start, we ordered caponata (left), roasted beets (top), and brussel sprouts with pecorino (bottom). Most often, restaurants focus on meats and an inexpensive carbohydrate, perhaps only the occasional salad with spring mix, so it is refreshing to have an new interpretation of vegetables which require finesse, and fresh ingredients. I am quite certain that my feelings will cloud any type of critical judgment. I loved these little simple dishes. The eggplant was complimented by pine nuts, raisins, and capers. The eggplant itself was not overcooked or soggy, but retained a somewhat meaty texture. The dish was salty and sweet all in one, and therefore an instantly satisfying. The beets were paired with saba, a cousin to balsamic, complimenting the beets with an enjoyable sweet tang. The texture of the beets was a little more cooked than I would have liked, but still acceptable. The brussel sprouts were a complete surprise. They were served raw, thinly sliced, and tossed with a nearly equal amount of pecorino cheese. This dish is completely understated, and unusual, but fabulous. It seems like it couldn't possibly be good, but then the next thing you know, you are craving it and you didn't even know that you liked brussel sprouts much at all. A simple preparation as this, makes for a fantastic dish.
The second round of shared dishes, featured several
fritti
or fried tastes. This included arancine (left), gnocco fritto (bottom), a mozzarella and anchovy fried sandwich (right, and top left), which came with some thinly sliced and lightly dressed fennel. The arancine were very crunchy as they should be, although a tad too salty for me. The inside was very soft, with a saffron-tomato type of risotto. I prefer the inside to have a firmer consistency. The gnocco fritto, essentially fried dough, were my only disappointment with the meal, and they were good. Gnocco-fritto are served at virtually every restaurant in Bologna, and Emilia-Romagna to commence the meal. I have only enjoyed them as little squares, which appear like ravioli, like there is something inside. Then you bite into it, and discover the tastiest little pillow of joy imaginable. There is nothing inside, but air. They must be served warm, and should instantly dissolve into nothingness, a heavenly experience for the palate. They are often served with a little salami, or prosciutto. The gnocco-fritto here were shaped a little like fries, and didn't melt away into nothing as I had hoped. Although, this was different take on gnocco fritto altogether, and if I had no prior experience with the traditional gnocco-fritto, this would be just fine. The mozzarella and anchovy sandwich had a crispy fried outside, with a soft-chewy inside. It was very rich, but perfect with wine. The anchovies are nicely tucked inside, and are noticeable, but not overwhelming. I do have to say that my Dad ate it, and while I think he would have scrunched up his face in disgust (he's not the most adventurous) had we really pointed out that there were anchovies; he ate it and liked it. And didn't find out there were anchovies, until we told him the next day. He said it was good! The thinly sliced fennel was a refreshing touch with all this fried food. Just simple.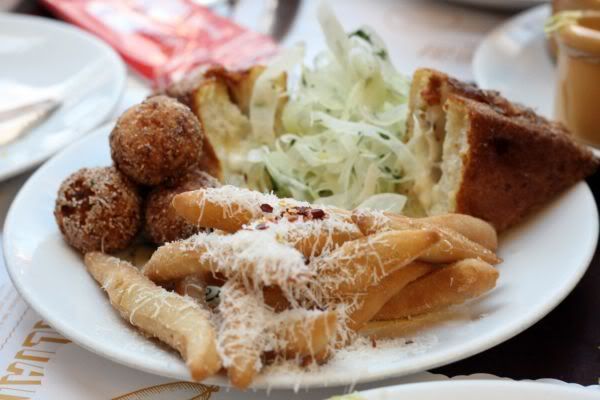 Dad had these meatballs and polenta. No complaints.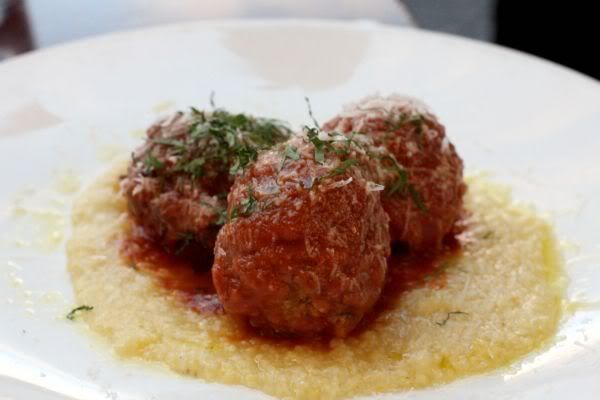 Jeff had the cannelloni, and while it looks a bit toasty, he said it was a "very good cannelloni".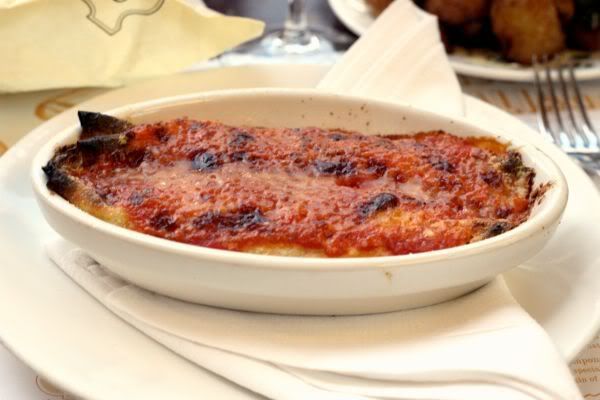 I ordered the bucatini all'Amatriciana, a sauce of tomato, cured pork and onion. This dish looks so simple, but it was very deeply flavourful. I did not have a chance to ask which pork had been used, but it seemed like more than just pancetta, perhaps guanciale. The dish also had a slight kick from red onions. The pasta was perfectly cooked. There is not much more to say, other than it was an all round great dish.
Mom ordered the casareccia con Zucca. It lovingly combined butternut squash, smoked ricotta and toasted hazelnuts. This dish is fantastic. Butternut squash and hazelnuts are a classic combination, but not often as simply stated as this dish is. Each part was prepared as it should be. She loved it, and so did I...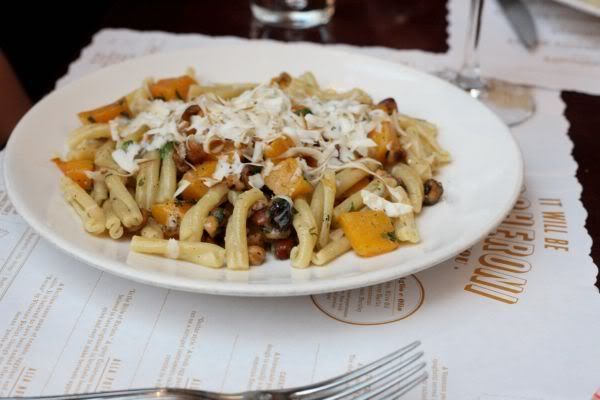 We would have decided to forgo dessert, except that an apple-basil gelato was calling Jeff's name. But so was this peanut butter and roasted banana gelato, with bananas, caramel sauce, a peanut butter cookie, and peanuts. Very creamy gelato, very nice.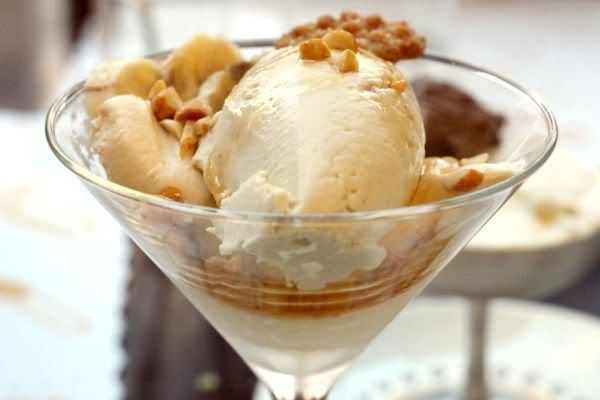 Below has Jeff's peanut butter concoction on the left, the apple-basil gelato in the front, and a trio of chocolate, hazelnut, and creme fraiche gelati. They were all very good, and none too excessively sweet. However, the apple-basil gelato stood apart from the others. It captured the essence of green apples and the basil without becoming too overwhelming, and was delicious despite the somewhat unusual pairing. A lovely way to cleanse the palate before sauntering back into the shopping maze of "Venice".