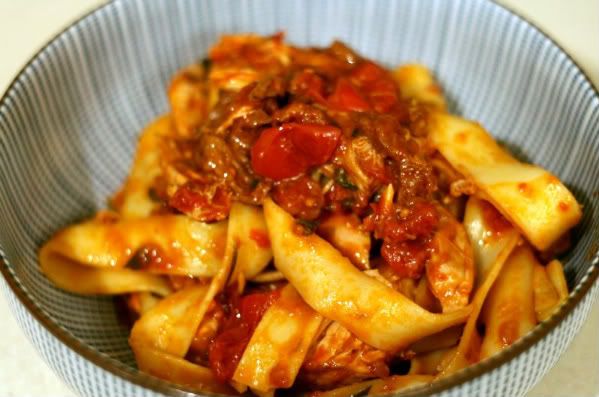 I don't have a clue. I am not joking. Of all the animals we imitate as children, I have never heard the sound of a pheasant. And I've seen many, and they are gorgeous birds. The sound doesn't matter so much, but I'm about to say that it is yummy. Quite a bit like chicken. Jeff and I are lucky to have found a local organic source of pheasant, from a nearby farm. But if you can't get your hands on one, try chicken with this recipe. It's a combination of porcini mushrooms, and rosemary that is cooked with the bird until the meat effortlessly falls off the bone. There's not a lot more I have to say about this dish, but it was heavenly in a warmed bowl, on sofa, near the fireplace. We are entering winter territory here, and I have to get into this kind of hearty cooking. Honestly, it's something I can't do without.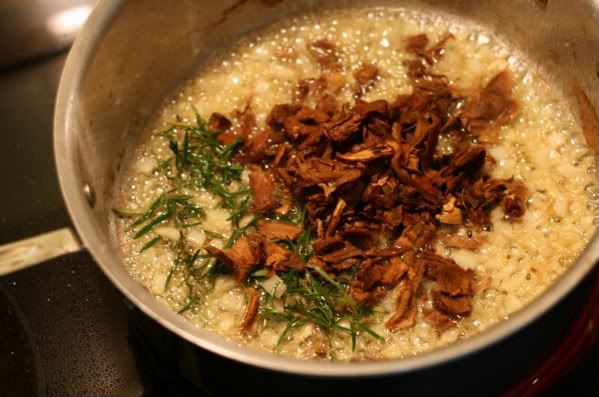 Pheasant & Mushroom Pasta
Adapted from Biba's Italy
1 2-3 lb pheasant, halved, washed, and dried with paper towels 2 cups dried porcini mushrooms, soaked in 2 cups lukewarm water for 20 minutes 1/2 cup extra virgin olive oil 1 cup all-purpose flour 3 tablespoons butter 1 cup diced onion 2 cloves garlic, minced 3 sprigs fresh rosemary 2 tablespoons fresh flat-leaf parsley 1 cup dry marsala 1 (28-ounce) can Italian plum or cherry tomatoes 1. In a deep-sided
sauté
pan, heat the olive oil on medium-high heat. Lightly dredge the pheasant halves in flour, and
sauté
on all sides, until golden brown. Remove from heat, and place the pheasant halves on a plate with paper towels. Empty excess oil from the pan. 2. Add the butter to the pan, on medium-high, until it begins to foam. Add the onions and seasons with salt.
Sauté
for 2-3 minutes, then add garlic and rosemary. 3. Reserving the mushroom soaking liquid, strain the mushrooms. Add the mushrooms to the onion and garlic mixture, and
sauté
for 2-3 minutes. Add the marsala, and continue to stir until it has mostly evaporated. Add the tomatoes, running a knife through several, to help them break down in the cooking process. Slowly add the reserved liquid from the mushrooms, being careful to keep the sediment in the bottom. 4. When the sauce begins to bubble, nestle the pheasant halves inside. (now they are happy!) Turn the heat down to low, or medium low. Leave it. Let it simmer for at least 1 hour, and then stir in the chopped parsley. Longer cooking is better - preferably 2 hours, or until the meat easily comes away from the bone with a fork. Add water if necessary. Season according to taste, and remove the sprigs of rosemary. 5. Prepare your favourite pappardelle, or linguine according to package instructions. 6. In a separate bowl, add separated bite-size pieces of pheasant and sauce according to the amount of pasta you have prepared. Gently combine with tongs, and plate. Or bowl, if you prefer. 7. Serve immediately, with a hearty red wine, and an acidic green salad.