It's not what you think. I mean really. I am married you know. Two Calgary restaurants in one night. I hope that explains it. Jeff and I joined a couple friends for a night out. Although, we couldn't just eat at one restaurant. Oh no, that would just be too simple. No, we
had
to eat at two restaurants. Looking back, it was twice the fun, really. First we went to
Alloy
for drinks and appetizers, and then we were off to
Parker House
, for the mains. To start, we were served these fabulous martini's with red wine tequila at
Alloy
. They looked beautiful, but were also an addiction for the taste buds. I am not usually all that fond of overly sweet drinks, and generally shy away from martini's. Luckily, these just hinted at sweetness, with a whisper of coconut. Just as there were visual layers, there were layers of taste as well, finishing with margarita as you worked towards the bottom.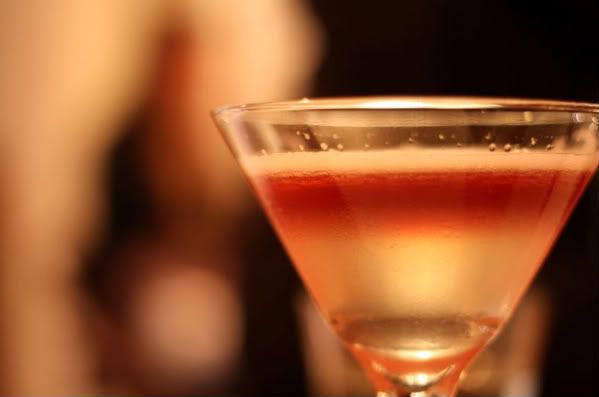 Jeff ordered the duck spring rolls. He certainly must have enjoyed them, as they disappeared before I could say
boo.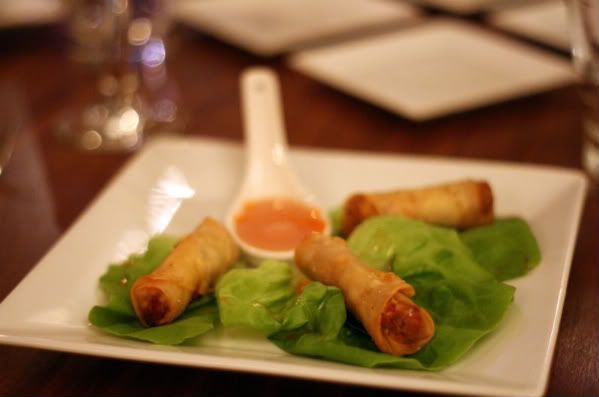 The tempura lobster was beautifully presented, and I was almost worried...sometimes food this pretty doesn't taste as desirable as it looks. I am more than excited to report that the food at
Alloy
does not fall into this category; it is delicious. I will definitely crave the lobster sometime next week. It was just the right consistency, and even buttery in flavour. I also enjoyed the slaw plated underneath as it had a nicely tangy, but not overpowering, dressing. It also added an additional memorable crunch.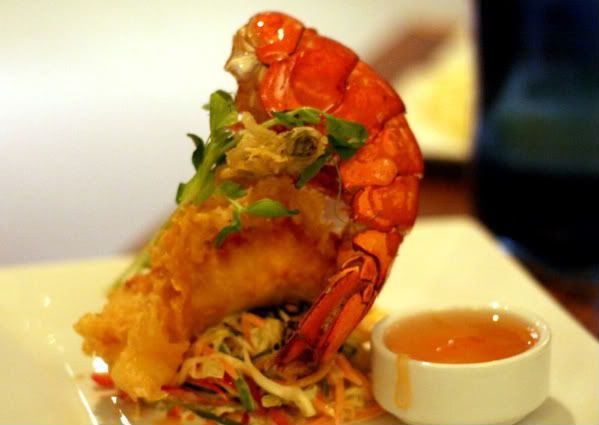 Of course, somehow my absolute favourite dish did not get photographed. I was too absorbed in devouring it and savouring every last bite.
I implore you to go to Alloy and try the
steak frites.
It was my favourite dish of the evening. We all expected the dish to be just fries, but it was more than that. The mini fries were so very cute, over top of capers and the most tender pieces of steak; a successful combination of salty, sweet, tender, and crunchy. There were many flavours involved in saucing the steak, but

just imagine whatever it is that makes your mouth water

, because that is the only way to really describe it.

When I eat out, I want to be blown away.

In the least, I want to be inspired. I need to be satisfied for sure, but I know the food is extra good when I also yearn for more.

This dish of ahi tuna tartar with chimichurri soy and wonton crisps, is everything I want to eat when I eat out.

The deeply flavourful and buttery tuna, was a match made in heaven when spooned onto the crunchy wonton crisps. The best part is not even in the menu description; it's the extra creaminess of the accompanying avocado that made me swoon.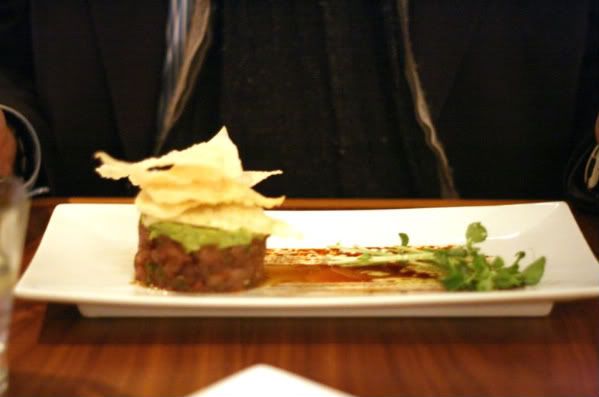 Then, we were on to Parker House Grill. It officially opened on October 22, so we weren't sure what to expect. It feels very spacious. Immediately, I felt that gobs of cash must have been thrown at it, to create a feeling of luxury. It also feels very metropolitan, aimed at the downtown business lunch, expense account crowd.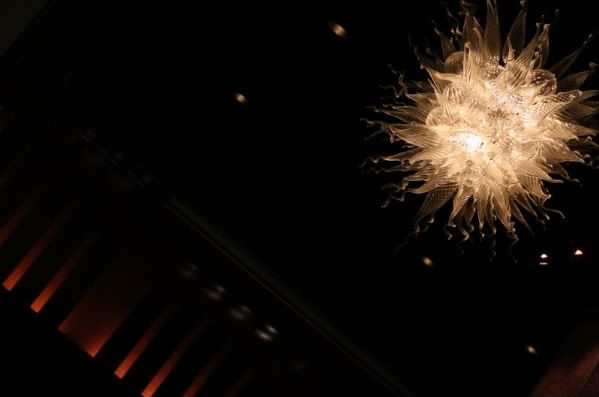 The menu.

I understood that Parker House Grill was aiming at comfort food, and indeed this was on the menu with lobster mac and cheese, and a few pizzas. However, I honestly, could not decide what to order. I always try to order

what I think is good

, not necessarily what I want to eat. I want to order something that the chef can do well, and is possible to do well under the circumstances. But, I was torn, and confused.

Did a chef actually create this menu?

Or someone who flashes the cash for the decor? The menu is all over the map, and I couldn't decide what could be good. What is the specialty? There was no focus. A part of me was a little intrigued, since I had heard that the restaurant was very good, but I couldn't possibly see how every dish on the menu

could

be good. Roast chicken pizza on a restaurant menu terrifies me. So does a BLT salad with iceberg lettuce. Scary, very scary.

Very Calgary.

The wine menu was equally frustrating. There are extensive choices. Fine. However, the list had to be read in order from front to back, or it was trickier to tell which type of wine was featured on the page. A couple times, I just flipped to a random page, and then had to flip back several pages to ensure I was still looking at red wines, since there was no heading which indicated I was still looking at reds. Fortunately, another in the party decided upon a Rioja. The server also passed a wine question test with flying colours, when asked to describe the wine for us. We were impressed. Despite the menu frustrations, I was still curious about the food. We received a little amuse-bouche, oooh! I was tickled pink to have a taste of foie-gras. It was beautifully cooked, and paired well with a fruity combination. Although, it just didn't bowl me over in any enormous capacity.

It was nice.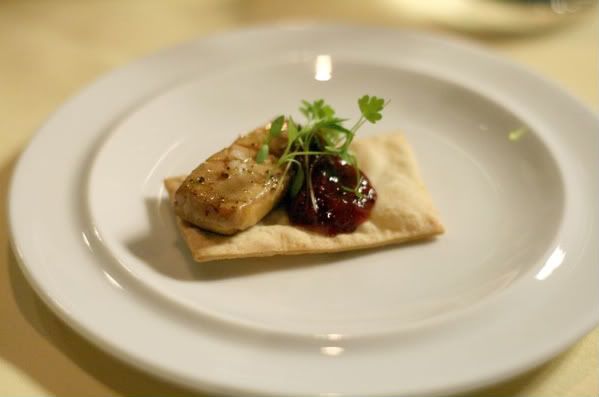 I should probably mention that before the main courses arrived, we received some of the
strangest buns I have ever seen
in a restaurant. Not only were they excessively salty, but I could easily have broken any of the windows by simply tossing them in the general direction. Rocks. And I should mention that I don't have a good throwing arm. Another blip in the picture we hoped. Then the bison osso-buco with risotto Milanese arrived. It looked good.
Immediately, I grabbed my fork and lunged at the meat to check if I needed my knife.
Thank goodness I did not, I just daintily applied a bit of pressure with the fork. Then, I tasted it. I let the flavours linger. I had a sip of wine. I tried water. Sadly, nothing worked.
No flavour. There was just no substance there.
If the risotto was made with saffron threads and arborio rice, as opposed to saffron powder and shards of broken rice, it might have had some substance.
For $40, I expected a bit more quality, even if the portion size had to be smaller to compensate.
Jeff ordered the "Crystal" rib-eye, aged for 40+ days, with the funghi risotto du jour. He didn't like it. The risotto had the same problem as the milanese, and
the steak was nothing special.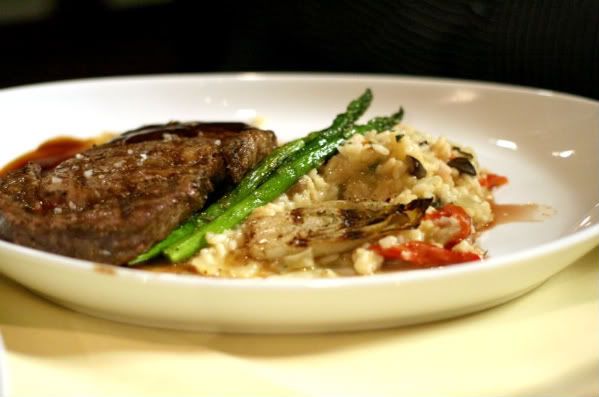 I do wish that some restaurants in Calgary would spend less attention to creating bling-bling decor, and more attention to food quality. Start with quality ingredients, and make something great - not just something that sounds good on paper.
I could have done without the foie-gras amuse, if it meant that the risotto or bread would be better than terrible.
All in all, it was an adventure with some good, some great, and some bad. Fun, none the less. I can't wait to go back to
Alloy
for drinks, appetizers, and dessert. That would make for a great night out.
Alloy
220 42 Avenue SE Calgary, AB
Parker House Grill & Wine Bar
131 6 Avenue SW Calgary, AB T2P 0P8 (403) 237-9585