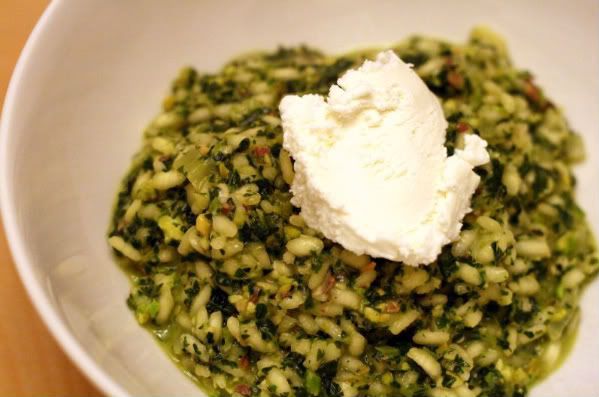 There's only so many salads I can take. And I
love
salads. But sometimes, I just need my greens in another way. Like pesto, or blended into brownies (you'll never know if you still use butter and sugar... I swear it!) This becomes even more true as I start to pull out my wool socks, wool hats, and my down coat. I need greens even more, but they even have to warm me up from the inside out, in a soulful kinda way. My all-time favourite risotto is
risotto milanese
(with saffron), but it isn't exactly full of healthful vegetables, or really anything healthful at all. But it is just so divine.... This risotto with pistachio's, swiss chard and kale, uses the same techniques, but it takes these super-green veggies to give it a wolloping punch. These vegetables aren't exactly ones I want to eat in a salad everyday, but they sure are good with a bit of rice, butter, and cheese. This is especially good for those, who would never eat these greens otherwise! When I suggested we have risotto for dinner, and asked Jeff which kind he would like; he immediately stated, "pistachio".
Pistachio it is.
Pistachio, Swiss Chard & Kale Risotto
1 cup arborio rice 2 tbsp butter 1/2 cup white onion 1/2 cup dry white wine 1 liter chicken or vegetable stock 1 bunch kale 1 bunch swiss chard 1/2 cup shelled pistachios 1 cup parmigiano-reggiano chèvre (optional) salt, to taste 1. Finely chop the onion. 2. In a food processor, combine the kale, swiss chard, and pistachios with 1/4 cup water, for approximately 10 seconds. Scrape down the sides with a spatula, and pulse for another 5 seconds. 3. Add the stock to a sauce pan, and heat on medium low. 4. In a deep-sided
saut

é
pan, heat one tablespoon of butter on medium heat, until it begins to bubble. Add the onion, and
saut

é
until soft and transcluent, not allowing it to brown. 5. Add the rice to the
saut

é
pan, and stir until well coated with the butter. 6. Add the dry white wine, and stir until evaporated. 7. Add a ladle of the soup stock to the rice mixture. Stir, and allow the mixture to cook down before adding more stock, only one ladle at a time. 8. Before the last amount of stock is added, add the kale, swiss chard, and pistachio mixture. Add the remainder of the stock. 9. Remove the pan from heat, and gently stir in the parmigiano, and the remaining tablespoon of butter. Season to taste. 10. Serve immediately, with a spoonful of fresh chèvre for extra creaminess.