Lately, it seems that the beauty of fall has escaped me, and I am falling behind. I have nothing left, not one iota of originality or creativity. Not one spark. So it is surprising that Jeff and I didn't end up eating at Pho Pasteur, in downtown Calgary, this evening. It's our
go-to
place to eat when absolutely no thinking is required. We were there this past Saturday, as we had a distinct yearning for spring rolls, for which no ordinary spring roll will do.
#19 and #25 please. Then an order of #27B. That's the fried ones, yes please; yes three springrolls. Drink? Tea please.
Now #25 is Jeff's bowl of choice (above); and it is very tasty. Essentially, beef, noodles, and spring rolls. There are peanuts too, and a nice little dish of sauce to pour over the top. Now, I
could
describe in detail all of the dishes and the specific ingredient details. However, I tend to think of this more as mama's kind of food. You don't get too worried about the sprig of parsley, or noodle out of place, you just eat. Pho Pasteur, is where you go for reliably good Vietnamese food, but this is not gourmet food. And that is why I
love
it. It's not completely perfect, and therefore completely perfect, in the most beautifully relaxed kind of way. It's not supposed to be fussy, so don't fuss. It just tastes like something, and that is more than good enough. These springrolls (27B) could cause for the need of a new version of Petrarch, who writes not about the beauty of Laura's lips, but of the beauty of light crunch and deep flavour. Sigh...
We mostly go for pho when I am getting a chill. Stuffy sinuses? Problem solved instantly. It is truly miraculous. I get overly hydrated, and even get a little glisten to my skin tone. If this is fast-food, it is sure tasty, and efficient. Of course, it is an absolute must to prepare properly in advance, with the proper attire. Appropriate attire, thank you very much. And that would be in dark colours if you are like me, and order #19. Or you can just copy me and use your napkin as a bib. Do not fret my dear, the
maître d'
is not going to concern himself with it; it is not a dress code violation, when it prevents the ruination of a beautiful plaid silk taffeta gown. There's really no way around it, as it is impossible to lovingly drain the bowl of broth without splattering absolutely everywhere. But it's
so very
worth it. Every slurpy bite, gets better and better. Within the bottom lies a treasure trove, featuring a chorus of peanuts and a flavourful hot accompaniment. There is also the fun little plate of goodies, yes the condiments can be used to adjust the pho just any way you like. More basil? Sure, why not. Lime? Most definitely. Get rid of a cold? The perfect cure. Cure for your stock market woes? Even better. Ten dollars per person, is often more than ample. It's almost criminally cheap, but with this food it feels more like a splurge. My favourite, #19.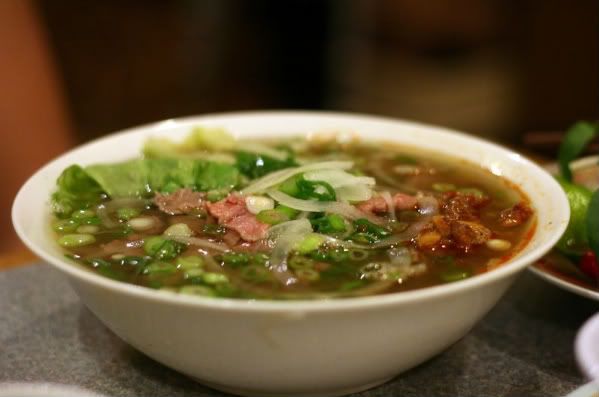 Check it out for yourself, I'll be there with my bib on: Pho Pasteur Saigon 207 1 St SE
Calgary, Alberta T2G 2G3
(403) 233-0477