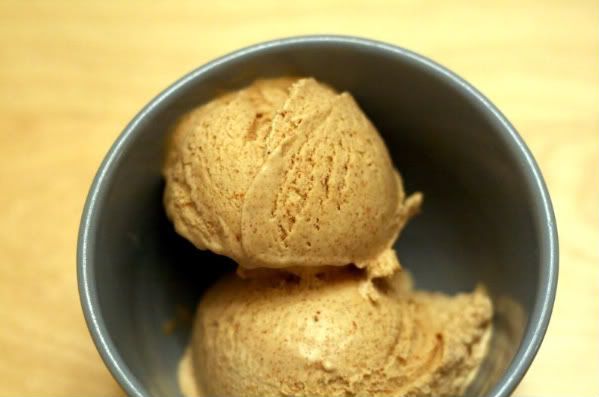 Trust me, this doesn't appear to be half as good as it is. I'm seriously not kidding. I would dare to say that this recipe is beyond creamy, it is so very decadent. Even a little bit extravagent, although certainly, a necessary indulgence. If you're going to have something sweet, you may as well go all the way, yes? Just go for it. It is so much more satisfying, and when something is this rich and creamy, it is almost impossible to want to eat too much anyways. Not that Jeff and I had any problem polishing this off, mind you. But our freezer might have lost power, and then it would spoil. Or surely, it would get nasty freezer burn. There was
urgency
in this high priority matter. Oh well, in any case. It was an extremely difficult wait, while the ice cream set in the freezer. Jeff wasn't home when I made it, so fortunately for me, I got the last bits out of the dasher all to myself. So there wasn't too much whining in the meantime, just my tummy wanting more and more. Cinnamon. Is there any spice more widely used? Surely, turmeric is up there in world stats I'm sure. But cinnamon is just so extremely versatile. I do try to eat a lot of it, as spices are supposed to be good for us, and are virtually calorie free. But truth be told, it is just darn good. Really, really good. I've never made anything that was too terrible with it, or that I thought had too much cinnamon. Not yet anyways. Plus it easily goes with most things, and always just makes it better. When I first made this ice cream, I was concerned that perhaps a tablespoon of cinnamon was too much. The colour of the ice cream was so brown, it was going to be a sunk ship, or so I thought. I was mad too, because I had to run to the store just for more cream. But then, it all figured itself out. So don't worry too much, it all turns out in the end with this one. Now I know a lot people are terrified of salt. Well sure, like anything else, too much isn't fabulous. But a little too much occasionally, to highlight here or there, is just plain fantastic! I increased the salt content to be similar to the amount I would add to make a
salted caramel
ice cream. Salty, but only to make the ice cream so delicious, that only eating a little bit is necessary to feel satisfied. There actually moments when I served myself a couple scoops of this stuff that I realized, that there was too much in the bowl. It is
that
rich. Oops! The honey is also an important component of this ice cream, but the amount of salt really helps it sing. Cinnamon and honey are just classic pairings, they seem so simple, and are virtual pantry staples. This ice cream is great to make when it seems like there is nothing
good
in the cupboards; you know, like Nutella, or good quality cocoa, or even chocolate. Just go for it.
Creamiest cinnamon & honey ice cream
3 cups heavy cream 1 tbsp cinnamon 4 egg yolks 1/3 cup sugar 1/4 cup orange blossom honey 2 tsp fleur de sel 1. In a saucier, or sauce pan, heat on medium the 2 cups of the heavy cream, until bubbles easily form around the edge, and it is just barely steaming. In a separate, heatproof bowl, lightly whisk the eggs. In a thin stream, add half of the cream to the eggs, whisking constantly.* Add the eggs and cream back to the saucier, and cook on medium low. *This is tempering the eggs...or attempting to keep them from instantly scrambling by just adding them to the pot. 2. Add the sugar, honey, and cinnamon to the mixture. Continue to stir with a wooden spoon until the mixture appears quite gelatinous, and as if it will turn into scrambled eggs at any second, or coats the spoon with the consistency of melted ice cream. Remove from heat. 3. Whisk in the salt. Add the third cup of cream. 4. Allow the mixture to cool before placing in an ice cream dasher, and churn according to manufacturer's directions. The mixture should still be semi-soupy when removed, and added to a chilled container. Immediately place the container in a very cold freezer, later moving it to a warmer freezer. Enjoy!