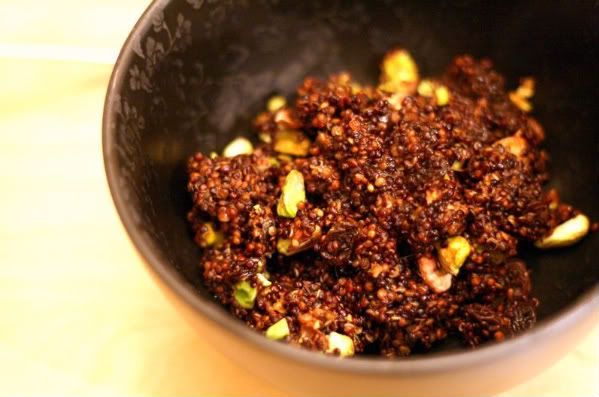 Simplicity is a virtue. Almost every aspect of our lives can be simplified if we think about it, and this never holds more true than in the kitchen. Cooking doesn't need to be complicated, time consuming, or require extensive exotic ingredient lists for every dish. Not only do my favourite dishes allow for a certain margin of fixable error, but also allow me to substitute ingredients ad hoc. Inevitably, there are only a few ingredients. The best dishes hardly ever contain more than three ingredients. The more I read, watch, and experience, the best things are truly basic and elemental in nature.
Insalata caprese
of tomatoes, mozzerella, and basil, a nearly holy trinity requires ingredient quality. Like a perfectly cooked steak. Not only is the cooking process important, but the cut and quality of the beef easily supersedes all else. Similarly, a gorgeous handmade pasta is truly rare, but contains only a few ingredients, which must be combined in correct proportions, and also worked together in a nearly magical way. Pasta such as this, needs only a simple sauce, if not just butter alone. Certainly, there are exceptions, but isn't there something to be said about the poetic beauty found in a combination of skills and ingredient quality? While I can't always find time to work out my frustrations in a golden-hued pasta dough, I can always try to highlight the flavour of foods by keeping ingredient combinations as simple as possible. Then I have a chance to truly savour the unique flavour of each ingredient, as simple and earthy as it may be. This dish full of healthy antioxidants, fiber, and protein. It works well as a side dish, or as a main salad for lunches. The cinnamon creates a slight exoticism, and I like to think about the travels of Marco Polo, and how exotic and unusual this spice must have first tasted to Venetians. Black quinoa is available at many health food and gourmet stores, although regular quinoa can also be used.
Cinnamon & Pistachio Black Quinoa
1 cup black quinoa 1.5 cups of water 1 cup raisins 1/2 cup shelled pistachio's, roughly chopped 2 tsp cinnamon 1. In a medium saucepan with a lid, bring the quinoa and water to a boil. Once boiling, lower the temperature to medium-low, allowing the quinoa to continue to simmer for another twelve minutes. 2. Stir in the raisins, pistachio's, and cinnamon. Add a touch more water if necessary. Cook for approximately another three minutes. 3. The quinoa will be cooked when the rings around the middle are just beginning to loosen themselves from the rest of the grain, or cook to taste.