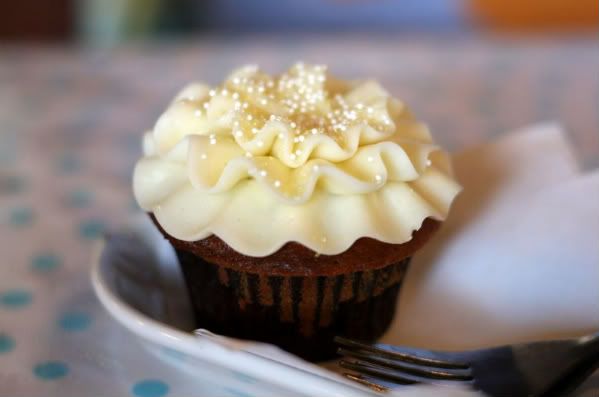 Everyone loves cupcakes. It seems that Sarah Jessica Parker and the gals influenced our sense of fashion, and our taste and yearning for delightfully iced pastries. But somehow, I am not won over; I absolutely can't stand cupcakes. I just don't get it. That being said, if anyone can do justice to a cupcake,
Trophy Cupcakes
in Seattle are pretty darn close.
Trophy
is actually very, very close to having created something that is not only beautiful and elegant, but most importantly,
almost
tasty.
Preface:
Where does this distaste for cupcakes come from? From eating bad cupcakes; cupcakes gone wrong. Chalky icing, and dry cake. It's not good, it's just not. I know there are hundreds and thousands of beautifully designed shops, websites, and very good blogs solely dedicated to praising and uplifting these little cakes. And at first, all this hoopla seems like such good fun, like a girlie sleepover with pillow fights. All innocent and fun. But then you realize that this isn't just a pillow fight, it's all out war; you taste the cupcake, savour the flavour, and discover that there is nothing of any substance there at all. Ok, so I'm biased. I was hoping
Trophy Cupcakes
would cure me of this strange illness, but alas, while it was close, I did not find a cupcake distaste vaccine -yet. I
do
like
Trophy Cupcakes
, as in I think it is about as good as it gets with flavours like
chai cardamom
and
peanut butter and jelly
. It is hard not to get caught up in all the fun. The shop is beyond adorable, and it's downright addicting. The glimmering glass display cases,
café
feel, and diner-like seating area. It's well done. For mommies & daddies with kids, it can't be beat. Not only are the cupcakes featured as little works of art, but
Trophy
has coolest party favours, and loot bag stuffers anywhere. You will find most anything necessary to throw the perfect kiddie party, and they are willing to customize decorations if need be. There are letterpress cards (a personal obsession of mine) for those adults in tow as well. In case the cupcakes aren't cute enough as is, there are cupcake decorations too. If cupcakes are your thing,
Trophy Cupcakes
is probably your mecca. Jeff fell for the fresh
lemon butter cake cupcake
with tangy lemon buttercream
, and I swooned for the
chocolate graham cracker: valrhona chocolate cake with a bitter sweet chocolate and graham cracker crust topped with toasted marshmallow.
It was on Martha Stewart! Now, as cupcakes go, they were good, very, very good. The icing on Jeff's was quite flavourful, but still had a little bit of the chalkiness I despise. There was less emphasis on the lemon in the cake, which was also a little dry. However, it was still better than many other cupcakes out there, and a step in the right direction. The
chocolate graham cracker
is essentially a s'more cupcake, and it's a brilliant idea. The top reminds me of fancy French pastries, and it is a million times better than it looks. I swear. I think I really like this cupcake because it is hardly a cupcake at all; the top was not too sweet, and had a fantastically light and spoon-able texture. The cake itself was also pretty good, as it had a deep cocoa overtone, but not too sweet. Once again, the dryness wasn't bad, but still apparent. While I do still have a disdain for cupcakes, this must be at least be the right idea with a little flavour and a lot of love, perhaps there is hope for the dry cake, and for my lack of cupcake affection. Maybe there's hope for me yet. Daily cupcakes: $2.99 each, $33 dozen. *Specials: $3.25-$3.50 each
Trophy Cupcakes
, 1815 N. 45th Street, Suite No 209, Seattle, (206) 632-7020 Above: Lemon cupcake The tempting display counter, and flirtatious awning: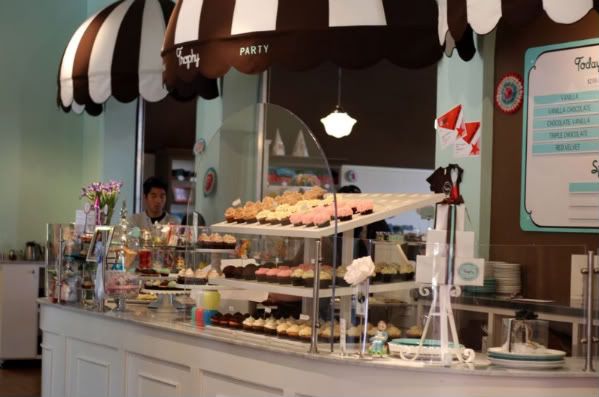 Some pretty hip bevvies being served - including
matcha latte's,
and one of my favourite's -
Dry Soda: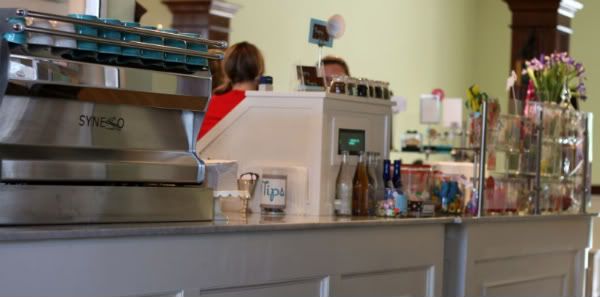 Chocolate graham cracker cupcake: valrhona chocolate cake with a bitter sweet chocolate and graham cracker crust topped with toasted marshmallow: