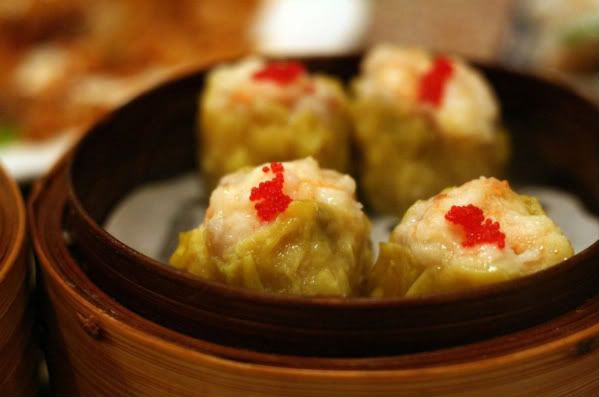 A seemingly random
hole-in-the-wall
restaurant can perfectly exemplify all the things that I want to eat. Food prepared by hand, and it's all superb. Everything is a little casual, and neighbourhood-like. No one is too worried if you're under dressed, or wearing the wrong shoes. There are creaky stairs which must be climbed or descended upon, and you're just not sure that the table will remain upright if you lean on it once more. Noting to yourself that the chair has a few stains of food, you start to think that the food requires a voracious appetite and willingness to get right into it. The service is attentive, but somewhat indifferent as they know you will not care about service; you are there because you love food. And darn good food it is. Calgary's Chinatown is not exactly
undiscovered.
I say this, as it isn't exactly a forbidding maze. Plus there are a few restaurants whose ages are approaching
decades,
unheard of in this town, and nearly everyone goes to the same places again and again. This cultural intermingling is just part of what makes Canada a great place to eat. Sometimes though, it helps to know someone
in the know.
C & J
, are not going for dim sum because it is a
trendy
thing to do. It's a part of life, and lucky for me,
C
has been introducing me to her food world for a long, long time. First sushi, then dim sum and bubble tea. But now I'll readily admit that things are much better, if only since we have our husbands to help us enjoy a greater variety of dishes! Going to Pine Lake Restaurant is like leaving Calgary without the expensive transcontinental plane ticket, and attempting to follow in the footsteps of Anthony Bourdain. This is easily possible, however, if you can find the door to Pine Lake. There is a sign, but it's small. This is perfect I though. I know that
C & J
know their stuff, so I was even more excited.
No carts
, they said,
everything is made fresh
. Then the paper menu arrived in characters I can't understand, and I was hooked. This is
definitely going
to be good.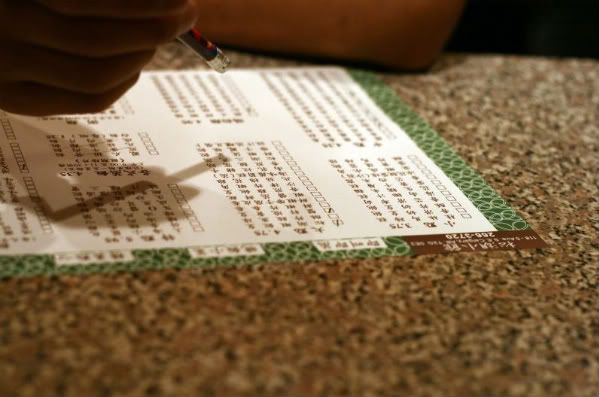 These noodles arrived first, and everything about them was just what I want to eat - salty, sweet, soft, fatty. Just right. At the top of the page are delicately flavoured shrimp dumplings wrapped in thin pieces of cabbage. The sweetness of the shrimp is completely addicting, and the pieces of inside still resemble their origins.
Ahhh, the pork buns. If I could eat only this in life, I probably would. The softest, most tender steamed bread on the outside, with a little present of sweet and tangy barbecued pork inside. There were decent sized pieces of pork in there too.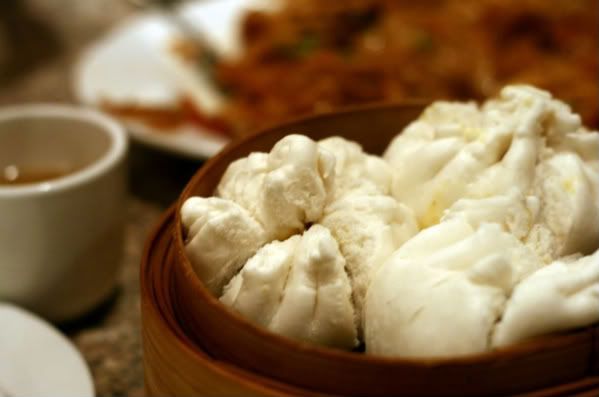 This is
C's
favourite, and it's hard to describe. She describes it as a
Chinese doughnut inside a noodle.
There's a salty sauce on the bottom and it came with two more. There's lots of good things to dip into at a meal like this.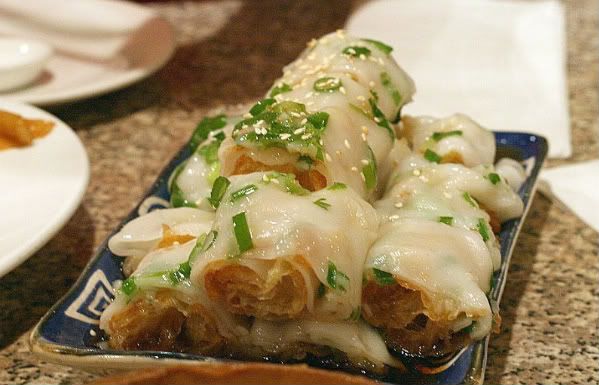 I love dumplings, of any kind, but these are mind-blowingly good. It's the usual kind of wrapper, but then there's this somewhat sweet mixture of almonds, pork and celery inside. Dip it into the spicy chili sauce, and it's an unforgettable combination of flavours.
Shrimp dumplings are always good.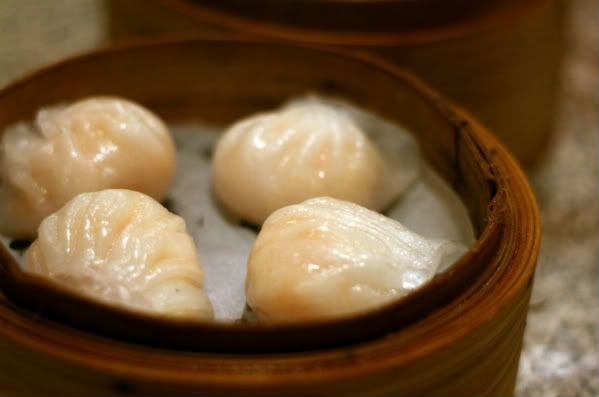 Not really sure how to describe this - it's sort of tofu, and tofu, and a broth. I didn't try it this time, but will next time.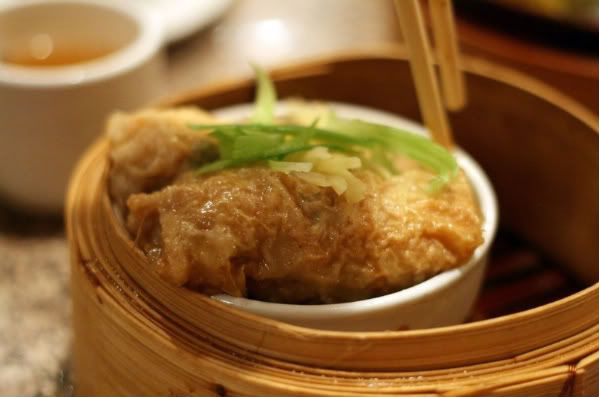 Tripe is always fun for the whole family. Ok, so it's not for everyone, but worth a try. The flavour was deep and hearty, the texture, however, was not for me. Maybe next time.
These have to be the most beautiful chicken's feet anywhere, and, yes, while I didn't eat them (been there done that), these ones are tempting. Yes, maybe the next time.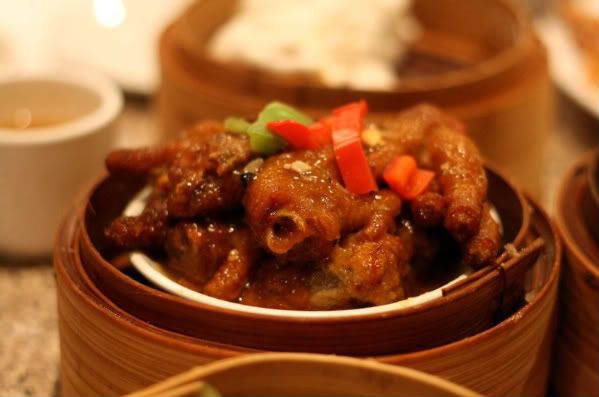 Next time, I'll have to go for dinner, maybe with dim sum in the same day. It is far and away the best dim sum I've had.
Pine Lake Restaurant, 118 5 Avenue SE (downstairs), Calgary, AB, (403) 266-3720