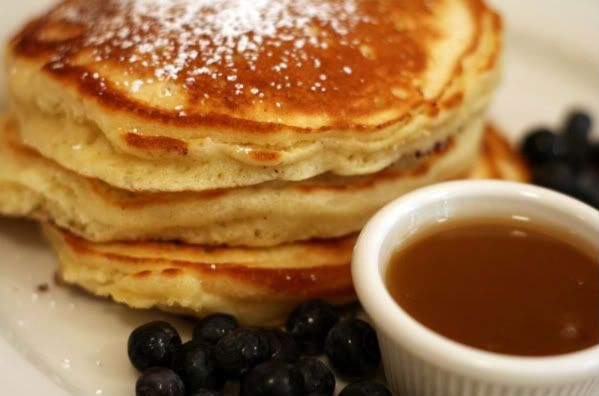 Brunch in New York is a big deal. Seriously,
everyone
goes out for Sunday brunch. Sure, Anthony Bourdain says brunch only exists as a restaurants way to use up leftovers (beware of omelettes with bolognese sauce), but what if the place kinda specializes in brunch? While
Clinton St. Bakery
doesn't only have brunch, they do also serve their blueberry pancakes at dinner. And while every other plate of food I saw looked divine, and tempting -- after trying the pancakes, there's no going back - even though
Clinton St.
has also had their biscuits, muffins, and their burger voted "the best". The first time I headed to
Clinton St
., it was because they have eggs benedict with Petrossian smoked salmon - on a biscuit! Now,
that
is how eggs benedict should be done (although Iberico ham, could be killer too), irregardless of fear about salmonella infestation. Now, these biscuits aren't just any biscuits, they are very light, buttery, and most importantly to me at that moment - big. Yum. The next visit, I ate the same thing. But Jeff ordered the famous pancakes. And so, I had to taste them, of course! It's a good thing he'd hardly eaten any of them yet, or I'm sure he would have reluctantly clung to his plate, like a lion that's guarding its prey. I once read somewhere, that the pancakes are so fluffy because the eggs are separated and then they beat the whites. I've tried it, it failed, and I'm still addicted to
Clinton St.
So now, I always get the pancakes. I'll even wait for the pancakes. When you go to
Clinton St. Bakery
(on Clinton St.), be prepared to wait at least an hour or more. The Lower East Side of New York will keep you entertained; there's an adorable pastry shop up the street with pear & chocolate turnovers, or check out a few vintage shops. Maybe one day, I'll venture onto the truffled fried eggs, or the lobster BLT. Sounds great. But perfect pancakes? With fresh wild maine blueberries and maple butter? Sign me up.
Clinton St. Baking Co. & Restaurant, 4 Clinton Street (btw. East Houston & Stanton), New York, NY 10002, 646-602-6263