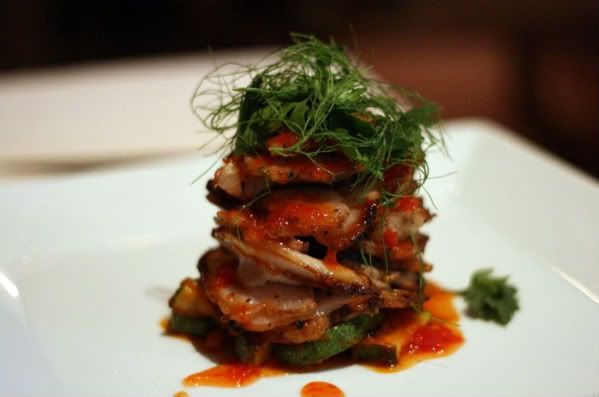 If you only have one day in Aspen, it's going to be a busy one. You'll need some hiking gear, biking gear, and your finest understated yet flattering fashions. While Aspen is famous for it's skiing, the summer more than exceeds expectations in every possible way. Start off at
Ink! Coffee
for the caffeine injection of your choice - you'll need it. If you haven't found the right rocket fuel to start your day there, devour a granola and vanilla yogurt parfait from Zele Cafe a few blocks away; it's loaded with fruit. While taking in the morning sunshine, pick up a free copy of the
Aspen Times
, or an Aspen housing magazine and become delirious while laughing away the cost of housing in Aspen. It's time for a hike. Ask anyone, where the
Ute
trail is, and be prepared to breathe heavily. Aspen is at 7900 feet, making it one of the most precarious airports to land, asides from accidentally running into a
Gulfstream
, as there is hardly any descent to the runway -- but also a fitness fanatic paradise. At elevation, you will work hard, and your efforts will be rewarded by loose-fitting pants, lean-mean muscle, and most importantly - glorious food to enjoy. Be sure to take a bottle of water, or a camel-bak if you decide to hike all the way up the mountain, as the
Ute
is only part of the way. If you make it to the top, attempt to take a deep breath, smile at your accomplishment and the vista, then fortunately for your knees, you can also take the gondola back down into town. There are many other hikes around, ask a local, or stop in a sporting goods shop, and they will point you in the right direction. Nothing is easy, but that's the best part. The gondola will drop you off near
Big Wrap,
one of the best values in town. For $6.70 + tax, pick up a savoury wrap, such as the
Mr. Potato Head
, which includes fresh roasted potatoes, spinach, grilled portobello mushrooms, pinto beans, jasmine rice, salsa, lettuce, cheese, with a roasted garlic vinaigrette in a whole wheat wrap. My favourite, is
Rock Your World
with fresh roasted turkey breast, confetti slaw (jicama, carrot, cucumber, green onion), lettuce, sprouts, guacamole, ranch dressing, and toasted pumpkin seeds in whole wheat. For further satiation, ice cream is a summer afternoon necessity.
Paradise Bakery
is the place, just follow the line. The peanut butter cookie, and chocolate brownie ice creams include their fabulous baked products, in creamy, dreamy ice cream, and are served with a mini chocolate chip oatmeal cookie. The muffins are scrumptious too. While
Paradise Bakery
is a chain, there aren't many ice cream shops that frequently have bassoon(!) or string quartets performing in the summer air. Now it's time for a quick change into cycling attire, and head up to Maroon Bells, just off the traffic circle (trust me, there's really only one). Maroon Bells is one of the most frequently photographed images anywhere, and often visited by tourists, but not by car. It is a road-bike ride with minimal traffic as it is accessible by bike or bus only. It is a definite climb, but well worth the effort, if not just for the racy downhill portion of the ride. Alternately, the entire morning can be rearranged to cycle a much further distance, but somewhat easier ride, and enjoy lunch at
Pine Creek Cookhouse
. A summer sojourn in Aspen would not be complete without enjoying a concert at the
Aspen Music Festival and School
. All the concerts are good, so don't worry too much, if you can only make one. It features the best of the best - the best young musicians to international starlings such as Canadian
Measha Brueggergosman
, John Zirbel, and Joaquin Valdepenas, to Yefim Bronfman, Sarah Chan, and
Nadja Salerno-Sonnenberg
. Even if you aren't sure of what to do at an orchestral concert, you will be dazzled and amazed, if even only by the fashion, and by the
tent
itself. It's not exactly a tent, but more of a semi-permanent structure, of higher quality than most concert halls. Finally, it is time to relax. Reserve a table at
Montagna
, located within the Little Nell, a
Relais & Chateaux
. Enjoy an aperitivo at the bar, the negroni are quite good, or save yourself for Master sommelier Richard Betts fine wine picks. A table outside near the pool can be lovely, and inside is equally enchanting, elegant and refined. You are in for a treat. Just to tease, the butter is sprinkled with fleur-de sel. It is a hotel, yes, but the food is strikingly good, with an emphasis on local products. Of the two nights we were here, the chef's farmhouse tasting menu, is to die for and a steal at $42 for three courses. Local vegetables, melt in your mouth pork with herbed pappardelle, and peach crepes to finish. It changes nightly. The second night we opted for a la carte, and were not disappointed. As expected, the service is impeccable. Above - porchetta with zucchini and chili Homemade lamb sausage with rapini and mustard: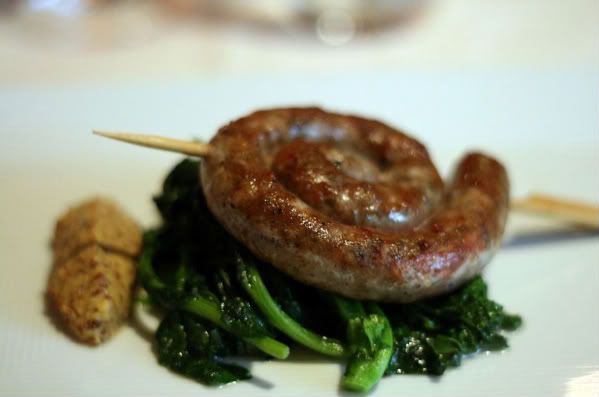 Ribeye with porcini, parmigiano-reggiano, and arugula:
Pistachio gelato, chocolate-hazelnut gelato, with fabulously fresh local cherries: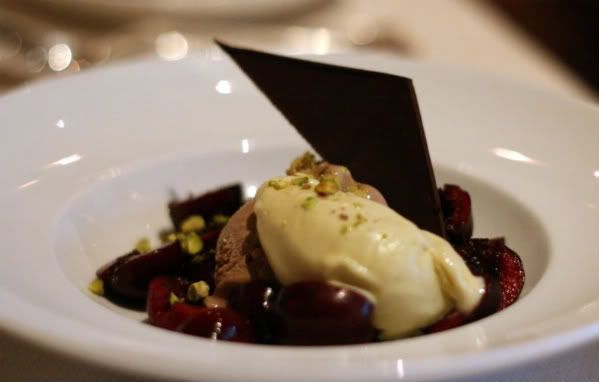 If further hiking time in Aspen is not an option, try to swing a drive up to Independence Pass. Make sure your car has turbo, or one can invariably be left to walk back down. The views, and race-track driving possibilities are well worth the effort.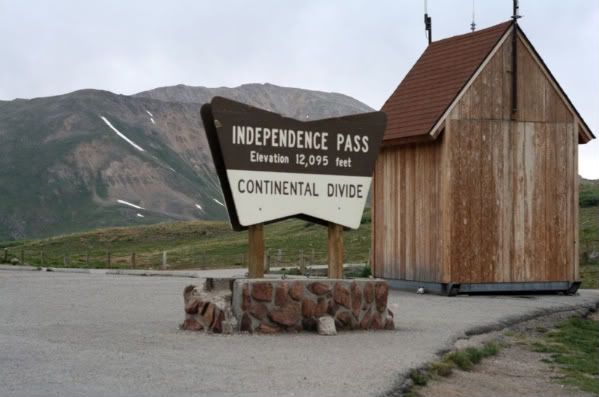 Finally, to conclude the day, take a stroll around town and gaze into glowing shop windows. A little window-shopping, and star-gazing, is just the way to end a delightful summer day.
Ink! Coffee

520 E Durant St. - Downstairs

(970) 544-0588 Zele Cafe

121 S Galena St. Aspen

(970) 925-5745 Big Wrap

520 E Durant Av. Aspen - Downstairs

(970) 544-1700 Paradise Bakery

320 S Galena St. Aspen

(970) 925-7585 Aspen Music Festival and School Pine Creek Cookhouse 314 South 2nd Street (970) 925-1044
Montagna, at the Little Nell
675 E Durant Ave.
888.843.6355
For more info on eats:
EatAspen
Big Wrap video (not mine):