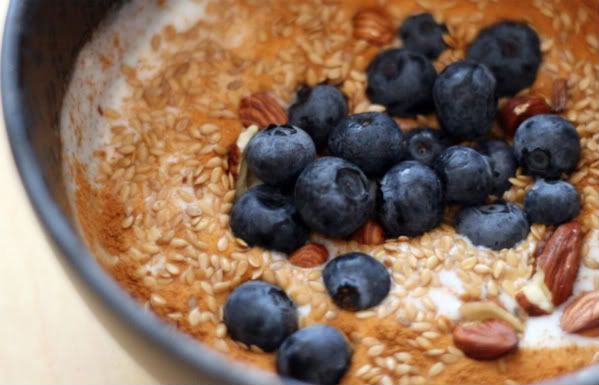 Actually, a yogurt parfait of sorts with all kinds of super healthy ingredients to get the body humming. We all know yogurt as a
superfood
unto itself, rich in calcium and probiotics. I buy it plain and organic; I simply can't bear to read the excessive grams of sugar added, or chemical sweeteners added to any other kind. I do like to take it a step further, by adding enhancing it with
Udo's Oil
, golden flaxseeds, blueberries, hazelnuts, and sweeten it with cinnamon and stevia.
Udo's Oil
, or flaxseed oil, can seem nearly impossible to use, especially with its strong flavour and thick consistency. It is, however, one of my favourite ways to make yogurt seem a little bit richer, but the flavour of the oil is not overwhelming with the addition of cinnamon. When I think blueberries, cinnamon almost immediately comes to mind. There is just something about the earthiness and spice of cinnamon, which makes blueberries sing with glee. If blueberries could get any healthier, it would probably be with cinnamon. Paired with yogurt, there is nothing better than cinnamon to sweeten it up. I do also like to use stevia (virtually calorie-free, and made from a root) in simple dishes, where it adds sweetness, but its potential bitterness is hidden in the mix. Hazelnuts are verging on my
favourite
nut. I love them in everything, especially toasted, in salads, or ice creams. They also have that ubiquitous fibre, and are a source of calcium. Mostly though, I find that when a meal or dish has some crunch, my appetite is more likely to be satiated, and my tummy is happy. Then, so am I.
60 Second Blueberry & Hazelnut Yogurt Superfood
Serves 1 3/4 cup plain organic yogurt 1/2 cup fresh blueberries, or more 1-2 tbsp slightly chopped hazelnuts 2 tsp golden flaxseed 2 tsp Udo's Oil, or other flaxseed oil 1 packet powdered stevia, or to taste sprinkling of cinnamon, to taste 1. In the serving bowl, stir to combine the yogurt, oil, cinnamon, and stevia. Add more cinnamon to taste. 2. Sprinkle flaxseed, hazelnuts, and then blueberries over the top.
À votre santé!