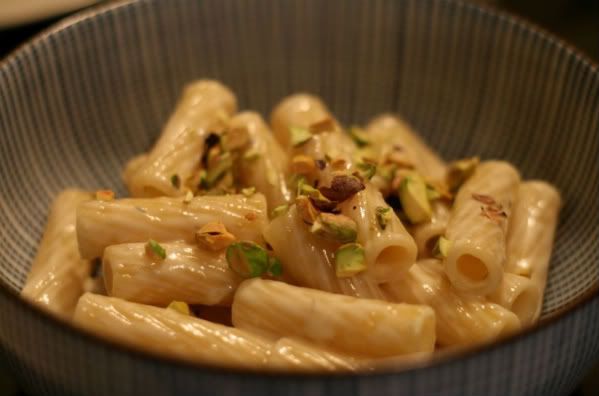 When there are those days when you think, "nothing could top this insanity, the world has reached a new pinnacle of absurdity," chances are you are correct. Who am I to argue? Some days you just want to quit. On days like these, I just try to find a way to cope. And while a bottle of a nice Syrah is often a good start, it needs to be followed by a bit of comfort in a bowl, followed by more Syrah. For me, this "day" is most often Friday, but a Monday will do just fine. It is mostly irrelevent, but when you really just need to feel like a little kid wrapped in a warm towel as you step out of the bathtub, this pasta dish is a good start. Finish with Syrah, my latest craze. This dish is for a day when "you've had it", as my Ukrainian Baba would say.

I am in a love affair with gorgonzola dolce. It is an Italian cheese, which is a bit younger and milder than gorgonzola. The texture is that of a young cheese, and buttery like a brie or camembert. At first it starts out smooth and creamy, and then it surprises you with a deep tangy flavour. It is fantastic with walnuts or pears. Use it just as you would many other blue cheeses, but it doesn't crumble. It is probably best used on anything in which it needs to be spread, or slightly oozing. More grocery stores are carrying it, but poke around at a little Italian shop for it.

I really can't fault pistachio's either. I know I shouldn't use the salted ones for cooking, but often I just can't help it. If I have them in the cupboard and I am moved to use them, so be it. I think they only nut tied for equal versatility is the hazelnut, but that is just me playing favourites. I love nuts. Just keep a few varieties in the freezer or fridge, and there are instantaneously multiple flavour combinations. Toasted or untoasted is just one more exciting option.

You're "Had It" Dinner:

Ingredients:
1 lb box of Barilla Tortiglioni
Coarse Sea Salt
2 tbsp butter
1/2 cup heavy cream
1/2 cup whole milk
200g or (approx.) 1/2 cup gorgonzola dolce
1/2 cup freshly grated parmigiano-reggiano
2 tbsp shelled and chopped pistachio's
1. Boil a large pot of water with 1-2 tbsp of coarse sea salt.
2. Meanwhile, melt the butter slowly in a sauce pan. Add milk and cream and bring to a simmer. Add half of the gorgonzola dolce and gently whisk. Add the parmigiano-reggiano. Reduce heat to low, and whisk occasionally. Requires approximately 10 minutes of cooking to a decent thickness.
3. Cook the pasta for about 10 minutes, at least 2 minutes less than indicated on the box. Strain.
4. Place the sauce into the empty pasta pot, combine with the tortiglioni, and the rest of the gorgonzola. Gently stir until the sauce has coated the pasta.
5. Plate and sprinkle with pistachios. Enjoy and unwind.