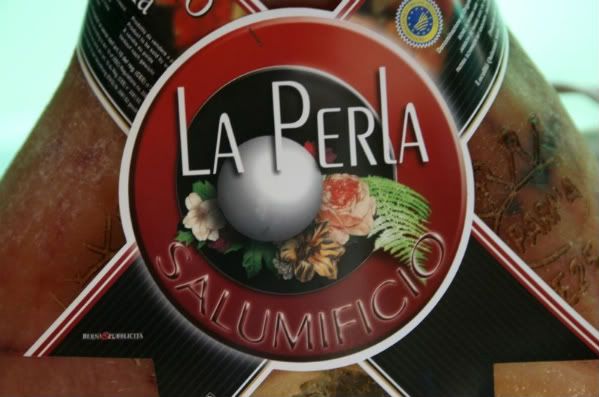 No, not the lingerie - sorry!
La Perla
, is the name of a prosciutto producer in Emilia-Romagna near Langhirano. We were referred to this gem, quite literally, by our wonderful hosts at
Country House Leoni
near Parma. There are two-hundred factories, or "azienda's" in the area, and fifty-thousand Parma hams produced at
La Perla
each year. Each ham has a very specific stamp and crown, according to the inspector, who comes to visit once a year. He smells over fifty percent of the hams, in four specified sections of the ham. He uses a horse bone, as you can also see our guide (the daughter of the owner), showing us.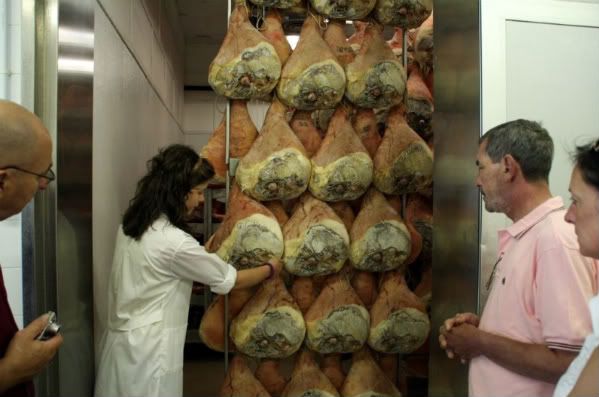 The hams are only covered in sea salt and go through many meticulous stages, many of which are very, very controlled in order to be the best of all prosciutto, "Prosciutto di Parma". First, the pigs have to be raised in a certain way, and only in a certain region. The pigs are fed the remnants of the parmigiano-reggiano cheese making process (a salty-milky brine), and slaughtered at nine months. The rest of the process is something like this: two weeks in the first room, two weeks in the second (both of different temperatures), one week in a warmer room, and then warmer, etc. At one point, they smear fat with salt and pepper on the exposed part of the ham. The hams are extremely carefully chosen, the fat and size must be just so. They arrive at La Perla at about 15kg, and leave at about 12kg. And when they leave, they are OH SO GOOD. You can smell the butteriness of the meat through the factory, and it is a little peculiar, but absolutely divine.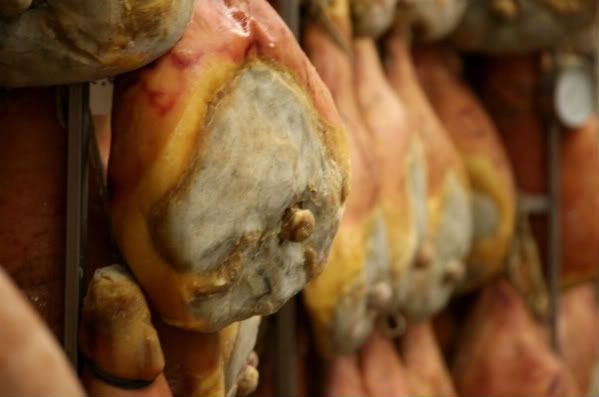 After the tour of the facility, we sat on the deck of the azienda and had one of the best lunches I've ever had. We had a bottle of Lambrusco (THE wine of Emilia-Romagna..it is bubbly which seems to help cut the fattiness of the foods served). The bubbles are very subtle. Not only did we eat prosciutto, but also salami, bread, parmigiano-reggiano with balsamico, melon, culatello, and coppa (a cured beef). I have to mention that the parmigiano, was much creamier than we get in Canada, a little more like an aged cheddar. And the hostess gave me an apron! All for 30 Euro for Jeff and I, tour and all. I would pay that much just to smell the factory again! We were sad to leave, but more sad since we couldn't purchase any of their items to be shipped to our home...unlike the Belgian and French couples who bought the best prosciutto and culatello you can buy..and for incredibly reasonable prices. Certainly, a pearl worth visiting indeed.